Non-Hybrid, Open Pollinated, and Non-GMO. 80-95% Germination.

Ask More on WhatsApp

Regular price

Rs. 59.00

Sale price

Rs. 39.00

Unit price

per

Sale

Sold out

Number of seeds in a packet: 5

Latest Germination Test: November, 2023

Germination Percentage: 96%

THIS PRODUCT IS PROUDLY MADE IN INDIA

View full details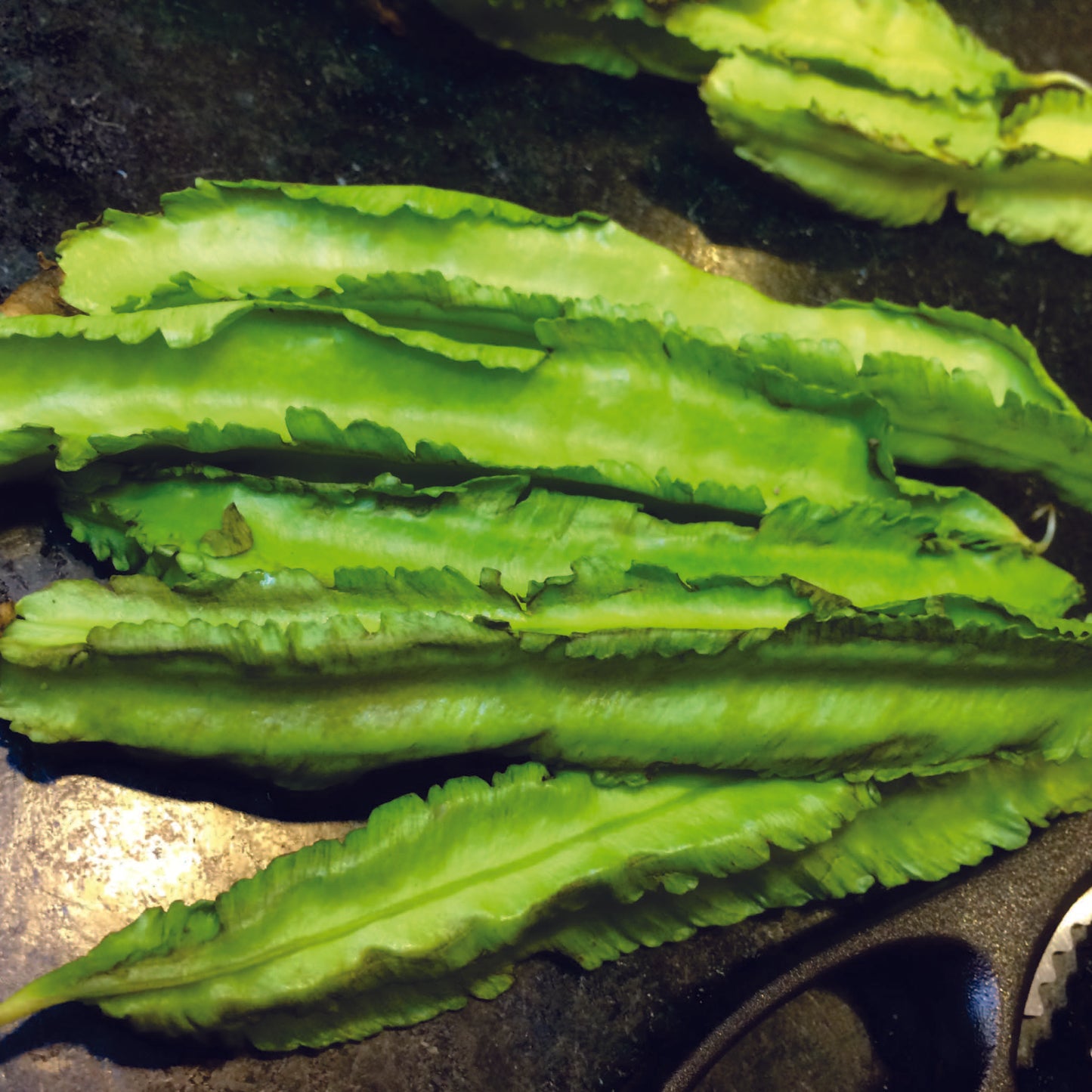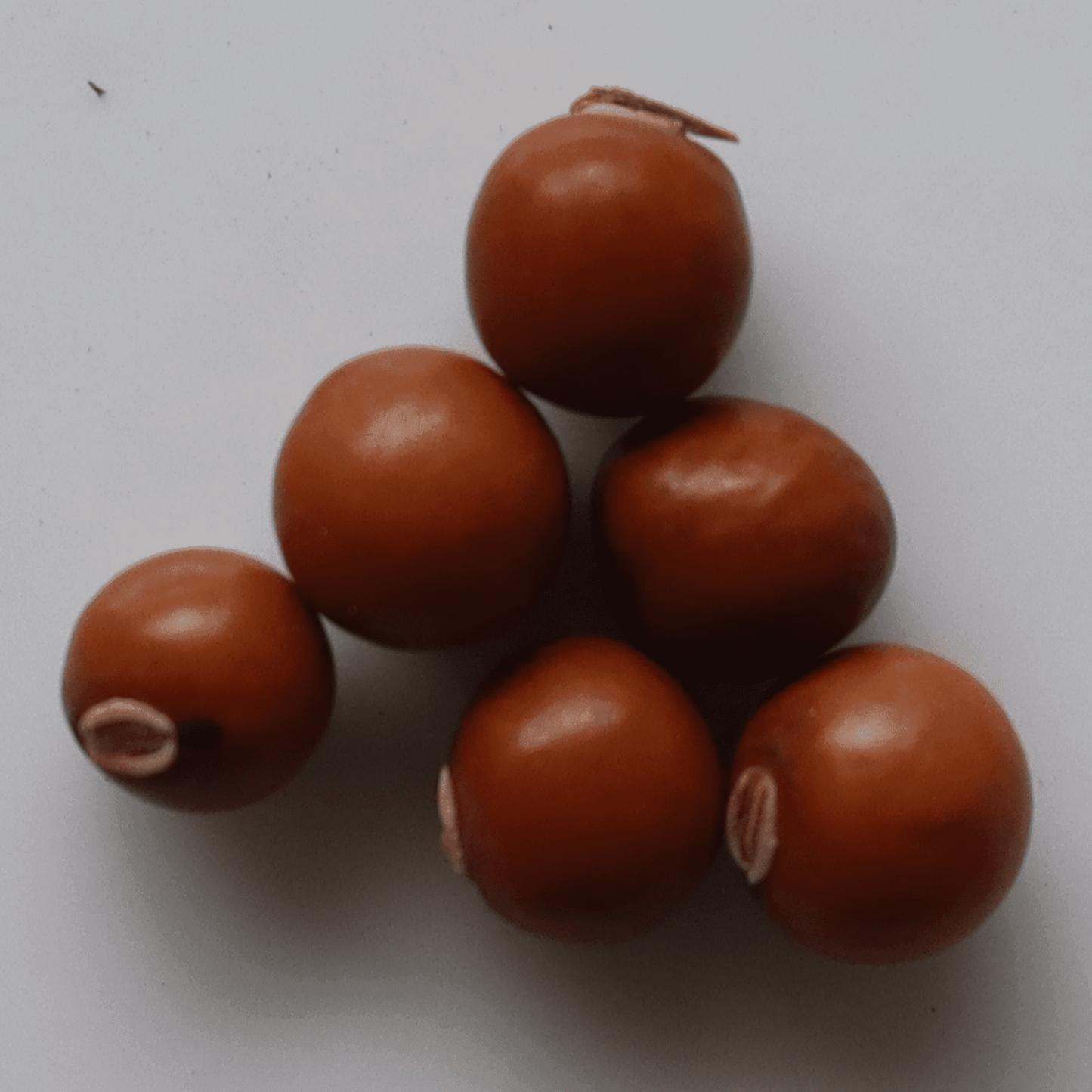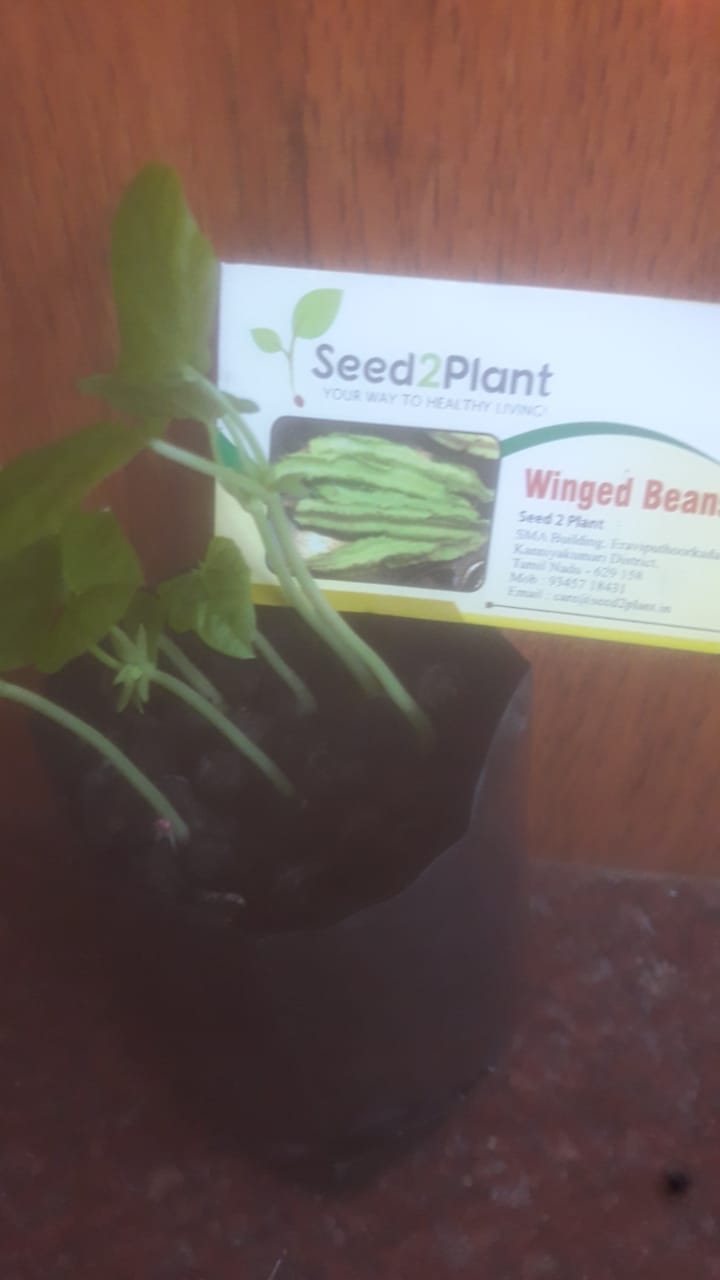 The winged bean can be cultivated  annually because it can tolerate higher temperatures. These big, unusual looking beans have four vertical fins and are crunchy in flavour. Despite its resemblance to other pole bean species, winged bean vines are very vigorous and can attain heights of 15 ft. Blue flowers make the Winged Bean plant a welcome addition to beautiful terrace gardens.
Benefits/Uses of Winged Beans
Low-calorie vegetables are tender, immature pods of winged beans; 100 g of beans bear 49 calories. However, mature winged bean seeds have 409 calories per 100 g and are moderately high in protein, similar to soybean protein.

One of the most acceptable sources of folate is fresh, young bean pods. Adequate folate can help prevent neural-tube defects in the newborn baby in the diet around conception and during pregnancy.

There is quite a fair amount of vitamin-C in fresh winged beans. It helps develop immunity against infections, maintains blood vessel elasticity, and offers some protection against cancers when adequately given in the diet.

Winged beans have sufficient quantities of minerals and vitamins as well. Some of the essential minerals are concentrated, such as iron, copper, manganese, calcium, phosphorus and magnesium.

Winged bean tubers are vibrant sources of fibre, starch, protein and B-complex vitamins.
Specifications of Winged Beans seeds
| | |
| --- | --- |
| Common Name | Winged Beans Seeds |
| Sunlight | Grow best in hot, wet climates with 60-100 inches of rain |
| Water | Sprinkling water alone |
| Temperature | 77-85 degrees |
| Soil | Grows best in rich, sandy loam |
| Fertilizer | Required |
| Germination | 7-15 days |
| Harvest Season | Winter |
| No. of seeds | 6 |
Planting and care of Winged Beans
Sowing Winged Beans Seeds
Start winged bean seeds in the spring 

Drop the seeds into a clean jar or glass and fill the pot with water halfway through. Locate the jar in a warm place where it's not going to be disturbed.

Change the water twice a day for two days in the pot.

This soaking will allow the seeds to germinate.

Cultivate soil incorporating compost or low nitrogen through the general use of fertilizer.
Growing Winged Beans
Place the growing bags away from any obvious shade sources, such as large trees or outbuildings, in a warm and sunny spot.

Mix in a 3-inch compost sheet.

Plant the seeds 1 inch wide and spaced every 6 inches for the seeds. Insert a strong trellis along the row of beans or a set of poles. Bury the posts deeply as these beans grow and need a robust system of support. Use creeper nets to provide additional support.

Thoroughly water the winged bean plants and keep them well-watered but not saturated. To facilitate branching and spread, pinch off the plants' tops when they are about 12 inches long. After one month, fertilize the plants by side-dressing with Phospho Bacteria Biofertilizer.
Harvesting Winged Beans
Start harvesting pods at 1-2" up to 3-4"; they become strong and robust as they grow larger.

All pieces are edible; pods, seeds, leaves and shoots, tubers and flowers. Harvesting the pods when young and tender, around two weeks after pollination.

Pick out the top of the main vine when it has developed 10-12 leaves to promote side shoots. Keep the beans well watered.

Winged beans are nitrogen binders, which enrich the soil for the crops that follow, and are also useful for animal food sources, green manure and sustainable cover crops.

Add a side dressing of 1 cup of high-nitrogen fertilizer per 10 square feet for higher yields.
Precautions while growing Winged Beans
To ensure that any weed/pest or insect does not infect it, the sapling needs to be tested at regular intervals, and if you find any such thing on the leaves or in the soil, you can spray organic pesticides on it, such as biopesticides from Neem Oil.
Common problems affecting Winged Beans and solutions
The winged bean seeds are difficult to germinate and must be soaked in water overnight prior to planting. They may also present a bit of a challenge in obtaining the same. Alternative leaf spot diseases can create small irregular brown lesions on leaves that expand and turn grey-brown or dark brown with concentric zones. The older areas of lesions may dry out and drop from leaves, causing a shot hole. The lesions coalesce to form large necrotic patches. It can be avoided by using Pseudomonas Fluorescens Biofertilizer as it offers the following benefits.
Protects plants against most types of fungal infections.

Offers superior protection to roots against fungi, bacteria, nematodes and pathogens.

Helps in plant growth promotion through the production of growth-promoting hormones.

Mainly used for direct soil application, seed treatment and foliar spraying.

For direct application, use 20g per plant.

For seed treatment, roll wet and sticky seeds over the powder and then dry them in the shade for 30 minutes.

For foliar spraying, mix 1kg with 50 L of water and spray during the evening.
No. of Winged Beans Seeds in the packet - 6
Free delivery above ₹499

More you buy, more you save! 24 Hour dispatch and 5-7 days delivery.

Easy Returns

Changed your mind about the purchase? We are just a text/call away.

Quick and Friendly Support

Our helpful and courteous staff can help you via chat or phone.

Secure Payments

All transactions done on Seed2Plant are encrypted and safe.