Essential Kit to Beautify Your Flower Garden
Ask More on WhatsApp
Regular price
Rs. 5,621.00
Regular price
Rs. 5,917.00
Sale price
Rs. 5,621.00
Unit price
per
Sale
Sold out
THIS PRODUCT IS PROUDLY MADE IN INDIA
View full details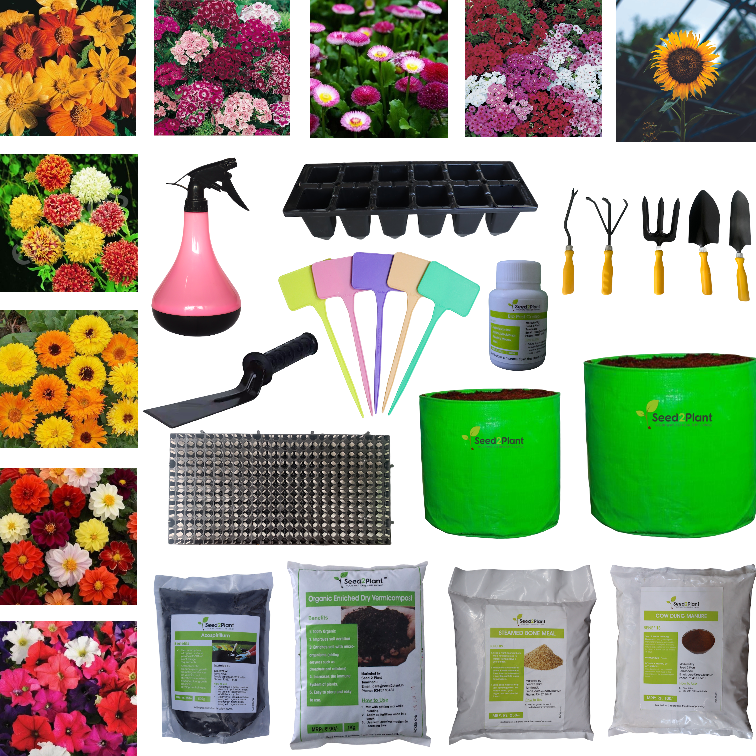 The Floret

from Seed2Plant is an essential flower garden initiative that includes basic tools and seeds required to start and improve your flower gardening journey. 
What's in the pack?
Categories

Products

Quantity

About




Grow bags

9x9 Grow Bag

6





Versatile potting containers to grow healthy flowering plants. The bags are extra thick, water permeable and UV treated to ensure longevity.

12x12 Grow Bag

3

Flower seeds

Dahlia Decorative Mix Seeds

1 Pkt

One of the easiest flowering plants to grow. 

Flowers bloom in warm colors like red, yellow, orange, peach, pink, lavender. 

Calendula Pacific Beauty Seeds

1 Pkt

Bi-coloured or tri-coloured flowering plant  blooming in shades of yellow, cream, peach, apricot.

Petunia Multiflora Mix Seeds

1 Pkt

Easy to grow plant producing flowers in pastel shades of pink, red, lilac, yellow, raspberry, salmon red, cobalt blue, white and purple, sometimes multi-colored.

Gaillardia Lorenziana Double Seeds

1 Pkt

This perennial plant has a long flowering season blooming in warm colors (sometimes multicolored) of red, orange, peach or yellow.  

Organic Sunflower Seeds - Hybrid

1 Pkt

One of the easiest plants to grow. Can be planted in rows as a beautiful garden fence. 

Sweet William Annual Seeds

1 Pkt

Blooming in crimson, scarlet, pink, red, violet and white, the flowers have a spicy aroma and are edible. 

Tithonia Mix Seeds

1 Pkt

The flowers native to Mexico add beauty to the garden with their bright red florets.

Daisy Carpet Mixture Seeds

1 Pkt

Daisy-like blooms in crimson, apricot, rose, pink and white. 

Phlox Drummondii Grandiflora Mix Seeds

1 Pkt

One of the best ornamental plants blooming in colours: red, cream, white, pink, lilac and rose.

Fertilizers

Bone Meal - 1KG

2

A fertilizer rich in nitrogen-phosphorus (ratio 3:15) and micronutrients like zinc, calcium and magnesium. 

Boost early root development and flowering. 

Vermicompost - 1KG

3

Must-have compost to improve soil structure and nutrient profile. More fertile than usual soil. 

Cow Dung Manure

3

Contains 3% nitrogen, 2% phosphorus and 1% potassium.

Facilitates the growth of useful microorganisms.

Azospirillum - 0.5KG

1

Facilitates nitrogen fixation in the soil. 

Produces growth-promoting substances like vitamins and phytohormones

Gardening Tools

Seedling Tray - 12 Cavities

3

Includes 12 spacious square shaped cells to grow seedlings effectively. 

Gardening Tools Set

1

Essential gardening tool kit. Includes weeder, cultivator, gardening fork, trowel and a transplanter

Drain Cell Mat

15

Effectively prevent water logging problems on the terrace. 




Khurpi 2 inch

1

A handheld gardening tool to dig holes for planting, mix or rotate soil and importantly to remove weeds. 

0.75L Sprayer

1

To gently mist water over soil and foliage.

Plant Tag

15

Plant identification tags. 

Pesticide

Bio Pest Control

1

100% natural, biodegradable and organic solution to home garden pest/ fungal problems. Effectively eliminated pests and its larvae. 
Free delivery above ₹499

More you buy, more you save! 24 Hour dispatch and 5-7 days delivery.

Easy Returns

Changed your mind about the purchase? We are just a text/call away.

Quick and Friendly Support

Our helpful and courteous staff can help you via chat or phone.

Secure Payments

All transactions done on Seed2Plant are encrypted and safe.