For tilling soil,digging and removing weed
Ask More on WhatsApp
Regular price
Rs. 160.00
Sale price
Rs. 129.00
Unit price
per
Sale
Sold out
THIS PRODUCT IS PROUDLY MADE IN INDIA
View full details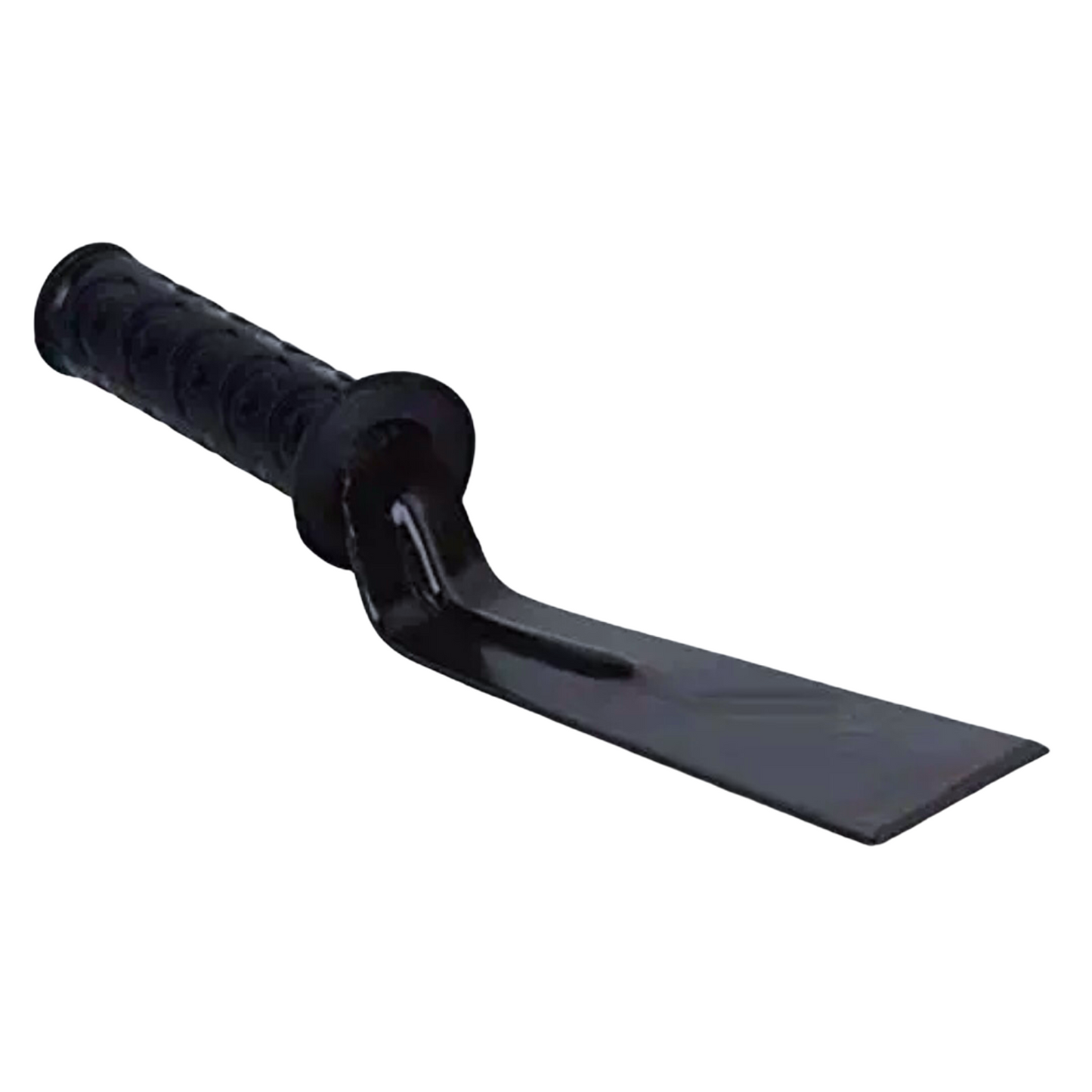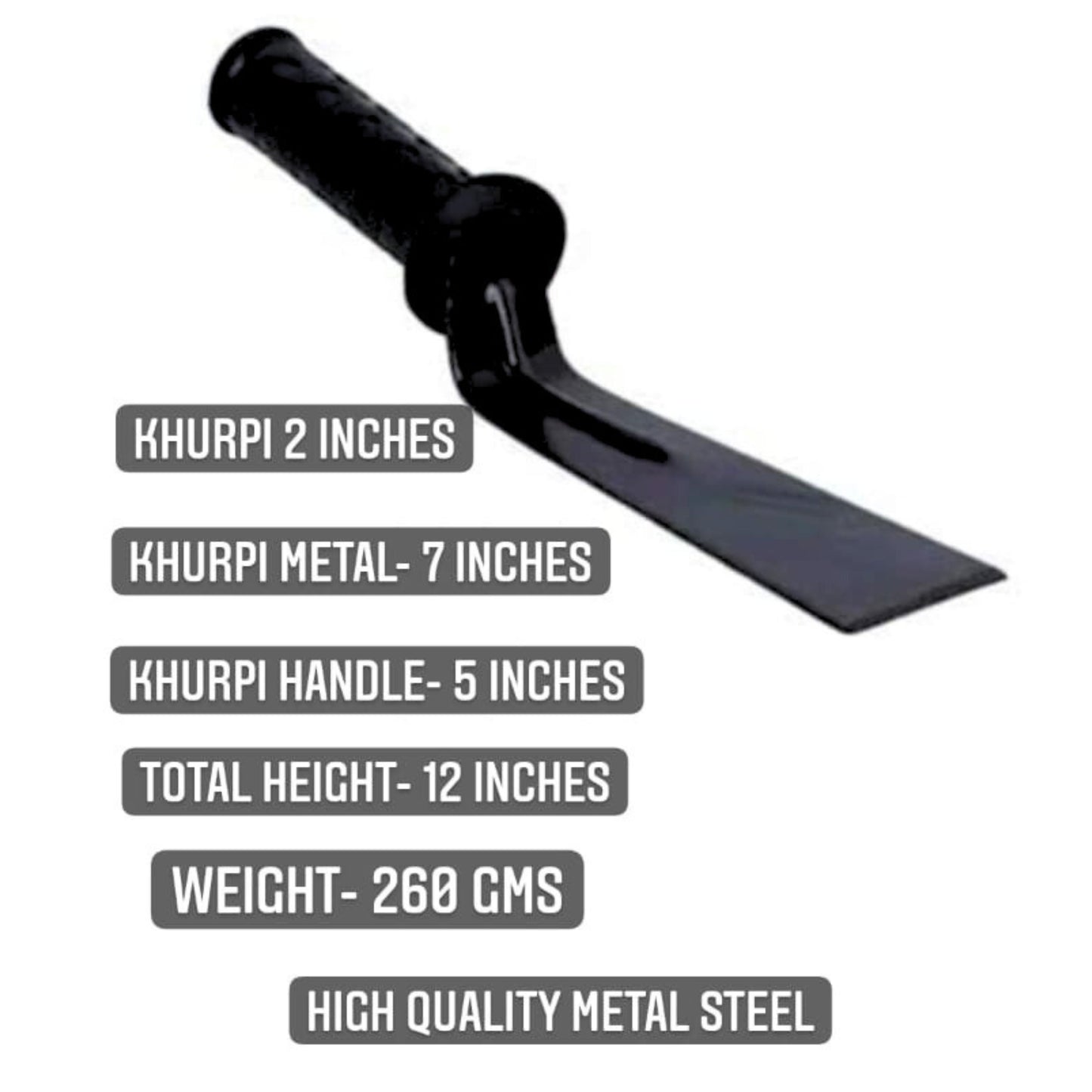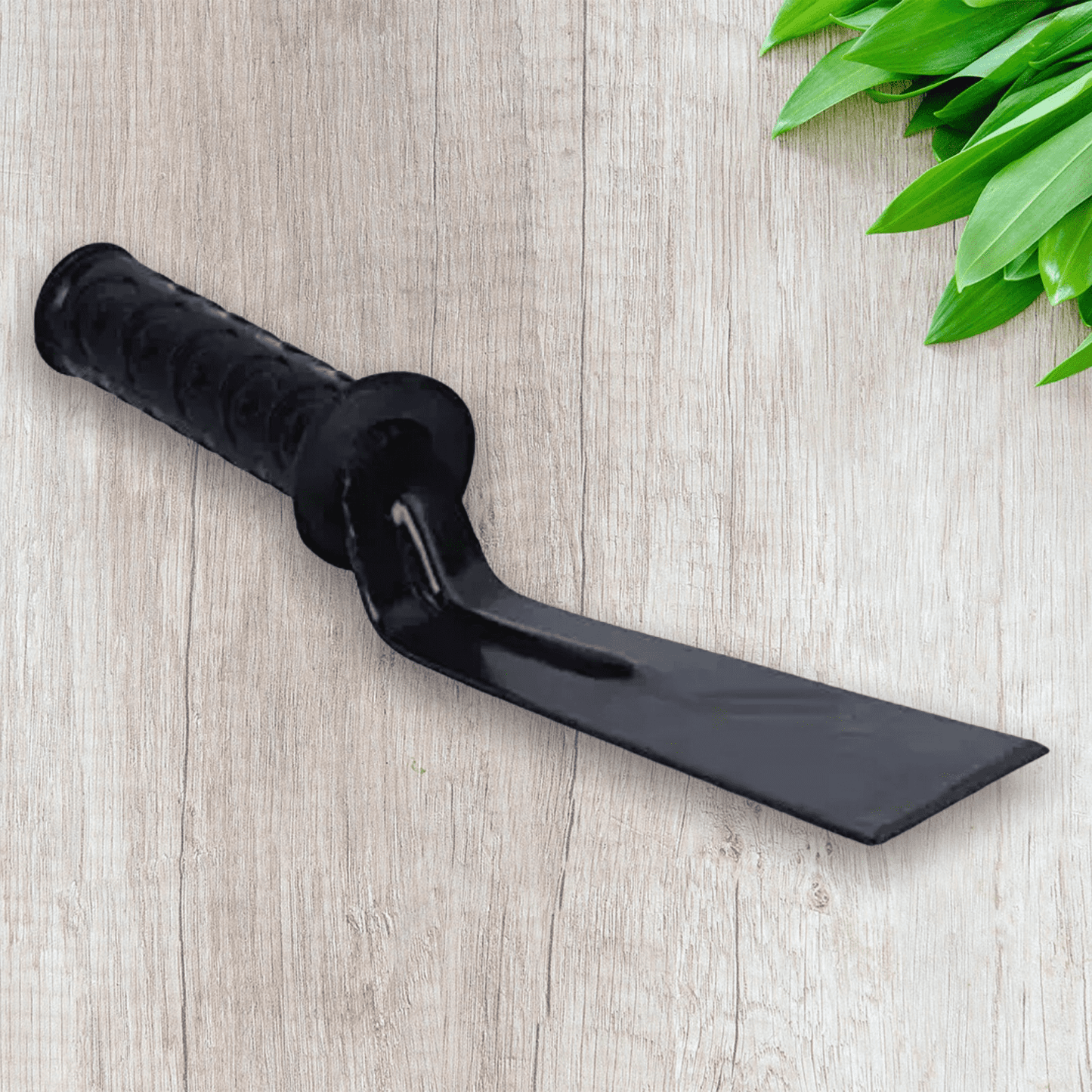 | | |
| --- | --- |
| Khurpi Metal | 7 Inches |
| Khurpi Handle | 5 Inches |
| Total Height | 12 Inches |
| Weight | 260 Gsm |
Khurpa/ Khurpi is a handheld traditional gardening tool that is used to

dig holes for planting, rotate soil and remove unwanted growths like weeds. 

Comes with a

2 inch blade

made from extra convenient durable metal. Suitable for beginners as it eases some gardening chores. 

Essential tool to

remove unwanted growth from the soil

. The flat bladed tool makes it easier to dig through stubborn weeds and remove it from root. 

Khurpa looks like a

handy trowel with a flat blade

. It can be employed to plow and cultivate the soil and make it ready for planting. 

Can also be employed to

till the soil

. Loosening up the soil is an important step to support the healthy growth of plants, facilitating healthy root growth.
What is a Khurpa/ Khurpi?
A Khurpa/ Khurpi is a gardening essential tool that has sharp flat blades attached to a plastic handle. It is essentially a form of trowel with a flat blade used to till the soil and unearth weeds easily. They can also be used to break up the compact soil and mix fertilizers. With a sturdy plastic handle and heavy duty metallic blade, Seed2Plant Khurpa offers a better grip to easily execute plowing and weeding. 
A Traditional Tool
The Khurpa/ Khurpi is a traditional tool that has been used by small scale gardeners and farmers for a long time. The tool is traditionally used in a squatting position, so that only less effort is required to dig through the soil and perform gardening tasks. The main purpose of Khurpa/ Khurpi has been to till the soil, prepare seeding beds and remove unwanted growth. The sharp blade and small design makes it efficient for small-scale digging. 
How to Use a Khurpa/ Khurpi 
1.Tilling and Soil Preparation
An important use of Khurpa is to till the compact soil, mix fertilizers/ composts with garden soil. Even though the soil is rich in nutrients, a plant cannot absorb essential nutrients from a compact soil. When supplements are added to the soil, it should be mixed well with the potting soil for efficient absorption by plants. Khurpa comes to the use by helping mix the potting soil ingredients around the plant. 
2.Dig holes and remove weeds
The sharp flat blade edges of the Khurpa make it an efficient tool for digging small holes in the garden. The use of the Khurpa is, however, restricted to the compactness of the soil. Digging holes in tight, compact soil will be harder with a 2 inch blade of Khurpa. However, the slender blades can be employed in removing weeds from roots. Long taproot weeds can be cleared with the khurpa easily. 
Start growing your own veggies
Though I am a beginner, it was quite facilitating & easy to procure online seeds from your Seed2Plant. The delivery process has been very prompt and very encouraging. The photos given on the seed packs with a brief write-up/instruction has been truly useful for a beginner like me.
Though supplied quantity of seed appears little lesser, their germination found good. My best wishes to Seed2Plant for further successful endeavours .
S Sumnyan
Good quality
Recieved in good condition, with good quality
Khurpa Gardening tool
Excellent, sturdy and useful!
Very good quality..Definitely recommended
Free delivery above ₹499

More you buy, more you save! 24 Hour dispatch and 5-7 days delivery.

Easy Returns

Changed your mind about the purchase? We are just a text/call away.

Quick and Friendly Support

Our helpful and courteous staff can help you via chat or phone.

Secure Payments

All transactions done on Seed2Plant are encrypted and safe.