Natural source of phosphorus to promote root development and flowering
Ask More on WhatsApp
Regular price
Rs. 250.00
Sale price
Rs. 195.00
Unit price
per
Sale
Sold out
THIS PRODUCT IS PROUDLY MADE IN INDIA
View full details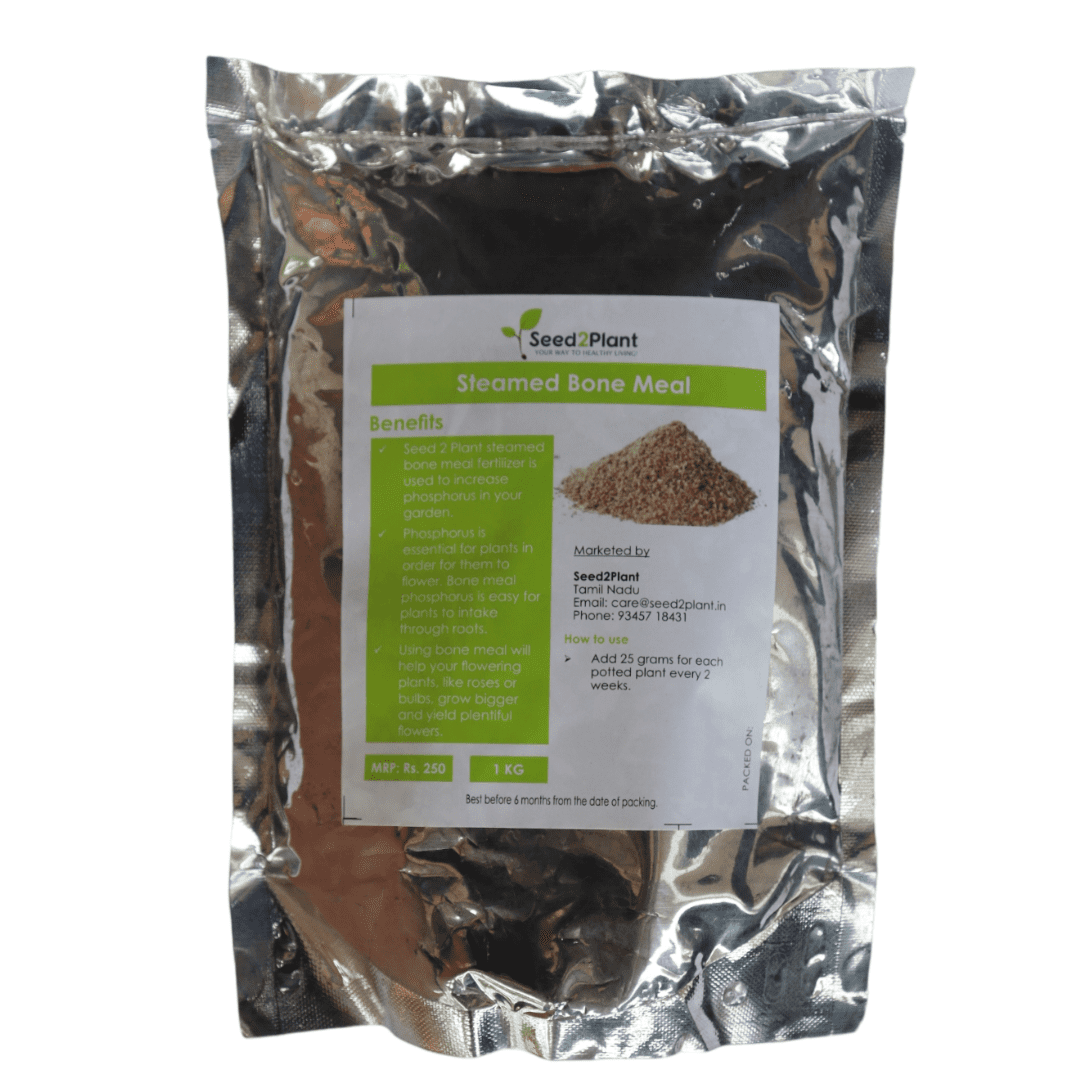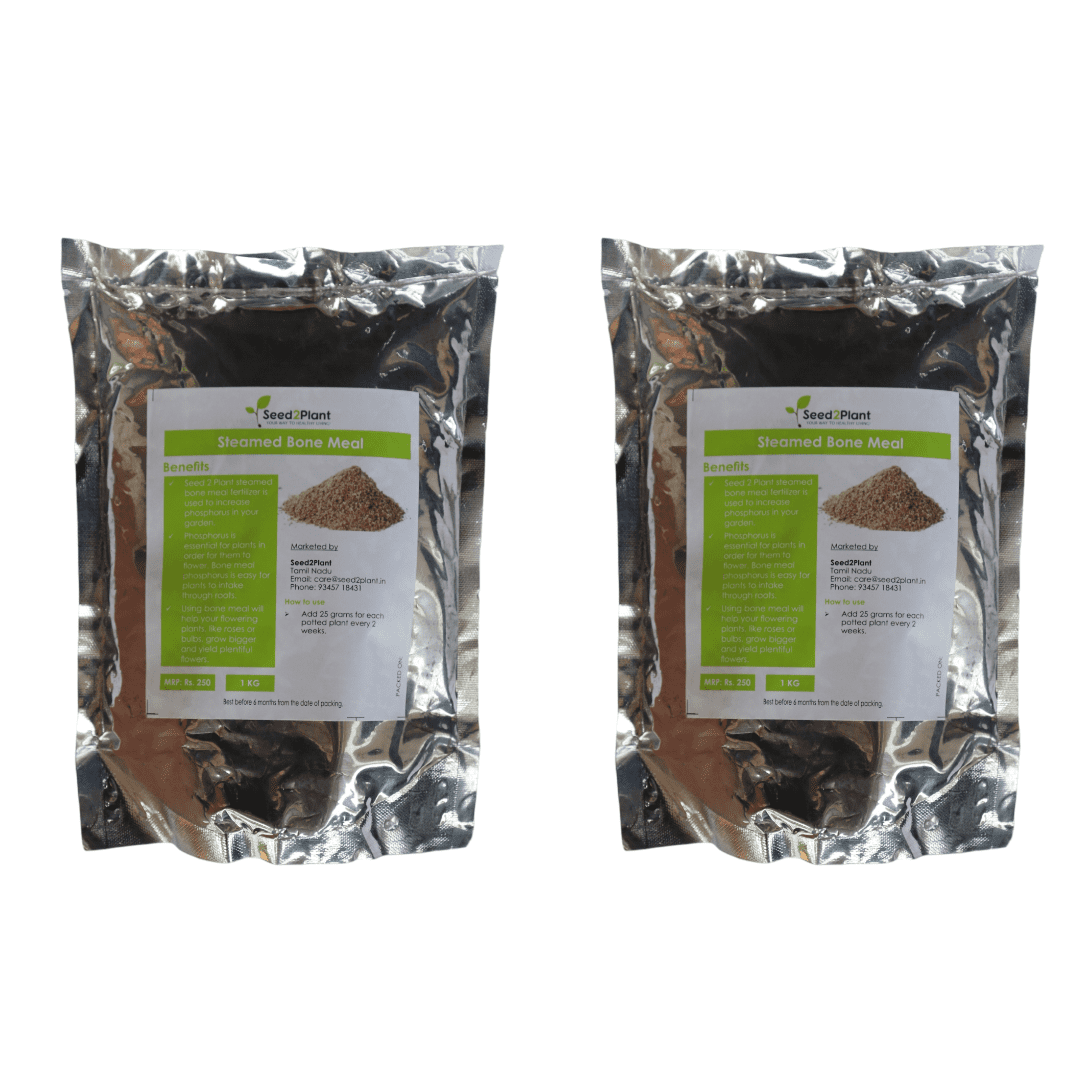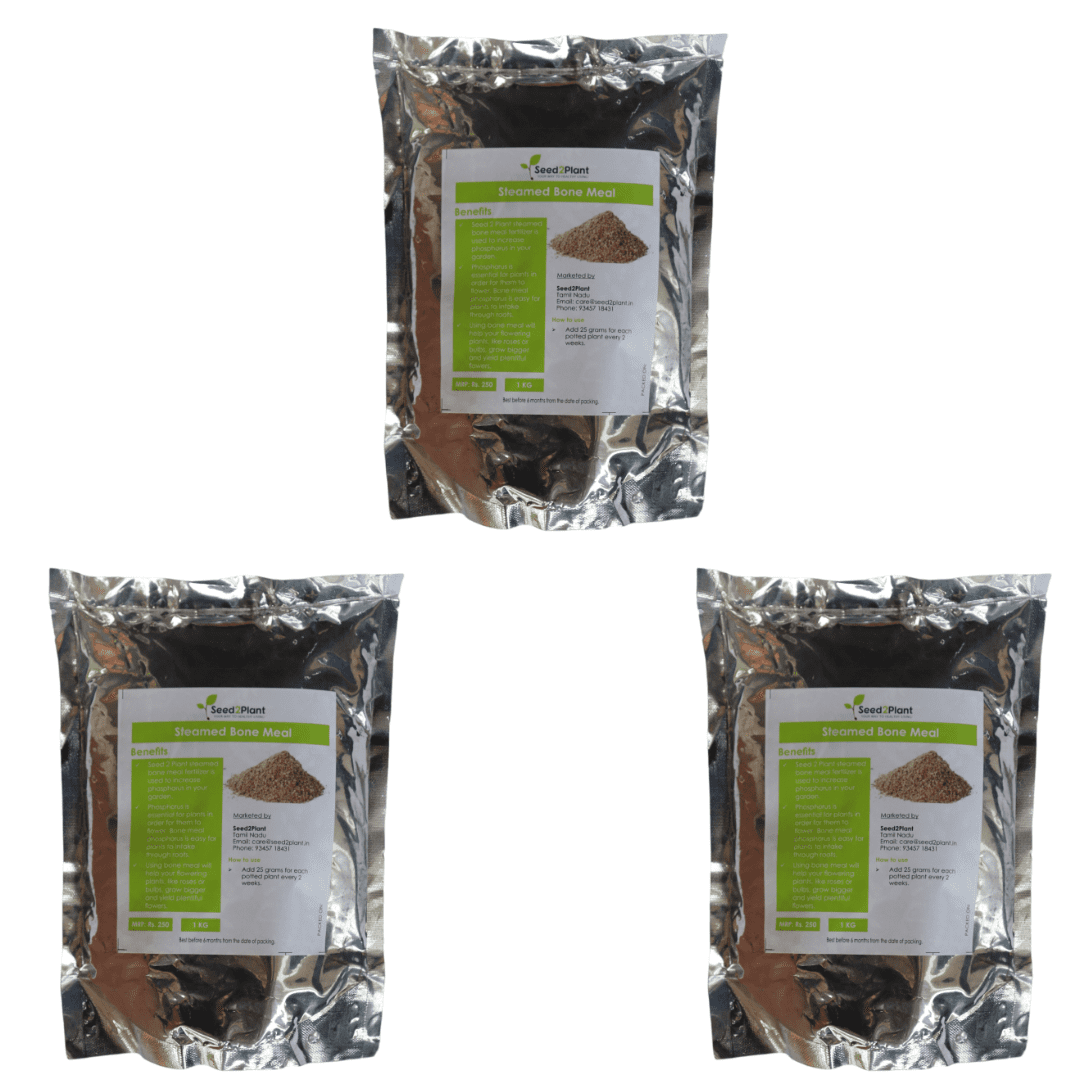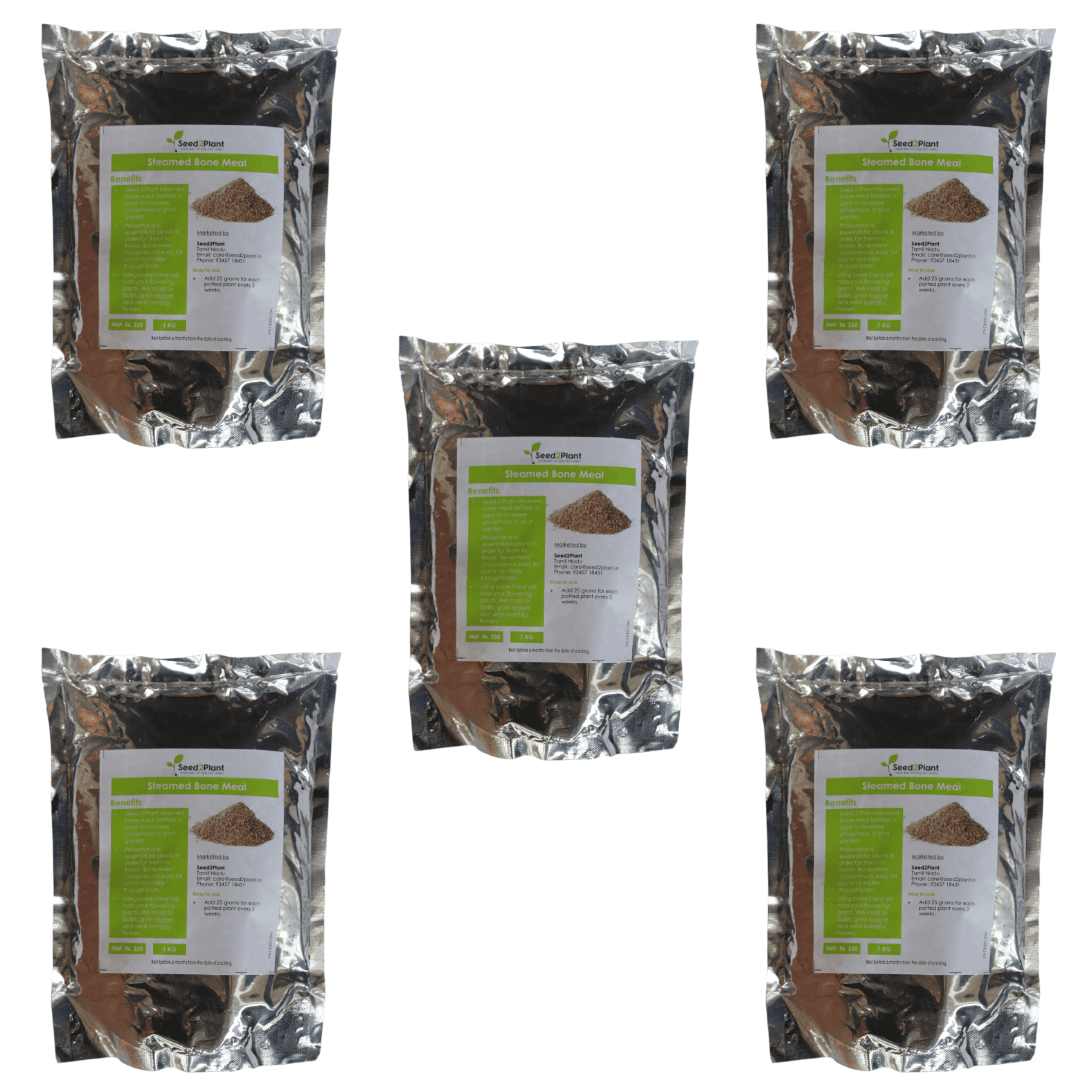 Seed2Plant bone meal is a

100% organic

source of

phosphorus

.

An excellent replacement to chemical fertilizer that can release

phosphorus and calcium

to soil over long periods.

Encourages

early root development

, increases stalk and stem strength and boosts flowering in all types of plants.

Efficient in flowering plants, boosting the formation of

larger blooms

and bulbs.

Bone meal has

nitrogen-phosphorus in the ratio 3:15

along with other micronutrients like zinc, calcium and magnesium, helping the formation of stronger plant cells.
What is a bone meal?
A bone meal is a finely grounded powder of fish bones, produced in a 100% natural process. Seed2Plant bone meat contains powdered animal remains and bones obtained from slaughterhouses. The meal is steamed to eliminate the presence of microorganisms. Unlike chemical fertilizers, bone meals can render benefits for prolonged periods. Since powdered bone takes time to break down in the soil, it will slowly release essential nutrients like Phosphorus and calcium into the soil, thus benefiting longer-term nutrient supplementation. The meal also contains smaller amounts of nitrogen, potassium, zinc and magnesium.
Why choose Seed2Plant bone meal?
It is the efficient organic way to feed the garden soil with phosphorus, a component essential to promote plant growth. As an excellent protein source, the meal is non-toxic to use in a home environment.
On mixing with the soil, the fertilizer promotes root development and improves the strength, flowering and fruiting in plants. Bone meal works efficiently for the faster development of roots in crops like carrot, turnips, potatoes and onions.
The calcium released from the meal aids in the development of stronger plant cells, strengthening the new offshoots and stem. It boosts offshoot growth in perennial crops and helps prevent common plant problems like the blossom-end rot in the tomato plant.
Bone meal is an essential ingredient in floriculture, horticulture, nursery stocks, vegetable gardens and interior plant spaces. As a balanced fertilizer that periodically releases nutrients with decomposition, the meal is the best protein source to multiply the flowering of roses, bulbs and other flowering plants. 
How to use
Apply the meal during initial spring soil preparation or during ploughing for planting seeds. Application at the early stage

before germination

will encourage the growth of new roots.  

In the case of potted plants,

mix 25 grams of the meal with soil every two weeks

.

Do not apply the bone meal directly to the top layer of the soil. Mix the meal with soil and apply it over the potted plants on the terrace/ balcony or to the top-dressing soil in landscape gardens.

For a small plant up to

1-2 feet high one spoon

of the meal is sufficient. Can also be applied by mixing with water and sprinkling it on the soil.

For a small-mid scale terrace/ balcony garden, one packet can last for

3-4 months

. 

Once applied, the meal can feed the plant for up to four months.
Awesome product
I have purchased fertilizer mix for vegetables and fruits which is 100% organic, is an awesome product of Seed2plant. Really it works for a healthy plant growth.
yes i have used 1 kg and found 100% pure neem cake
yes i have used 1 kg and found 100% pure neem cake for plant overall health
Excellent
Good quality and excellent results
Free delivery above ₹499

More you buy, more you save! 24 Hour dispatch and 5-7 days delivery.

Easy Returns

Changed your mind about the purchase? We are just a text/call away.

Quick and Friendly Support

Our helpful and courteous staff can help you via chat or phone.

Secure Payments

All transactions done on Seed2Plant are encrypted and safe.