Organic Magic Manure for Better Yield
Ask More on WhatsApp
Regular price
Rs. 800.00
Sale price
Rs. 745.00
Unit price
per
Sale
Sold out
THIS PRODUCT IS PROUDLY MADE IN INDIA
View full details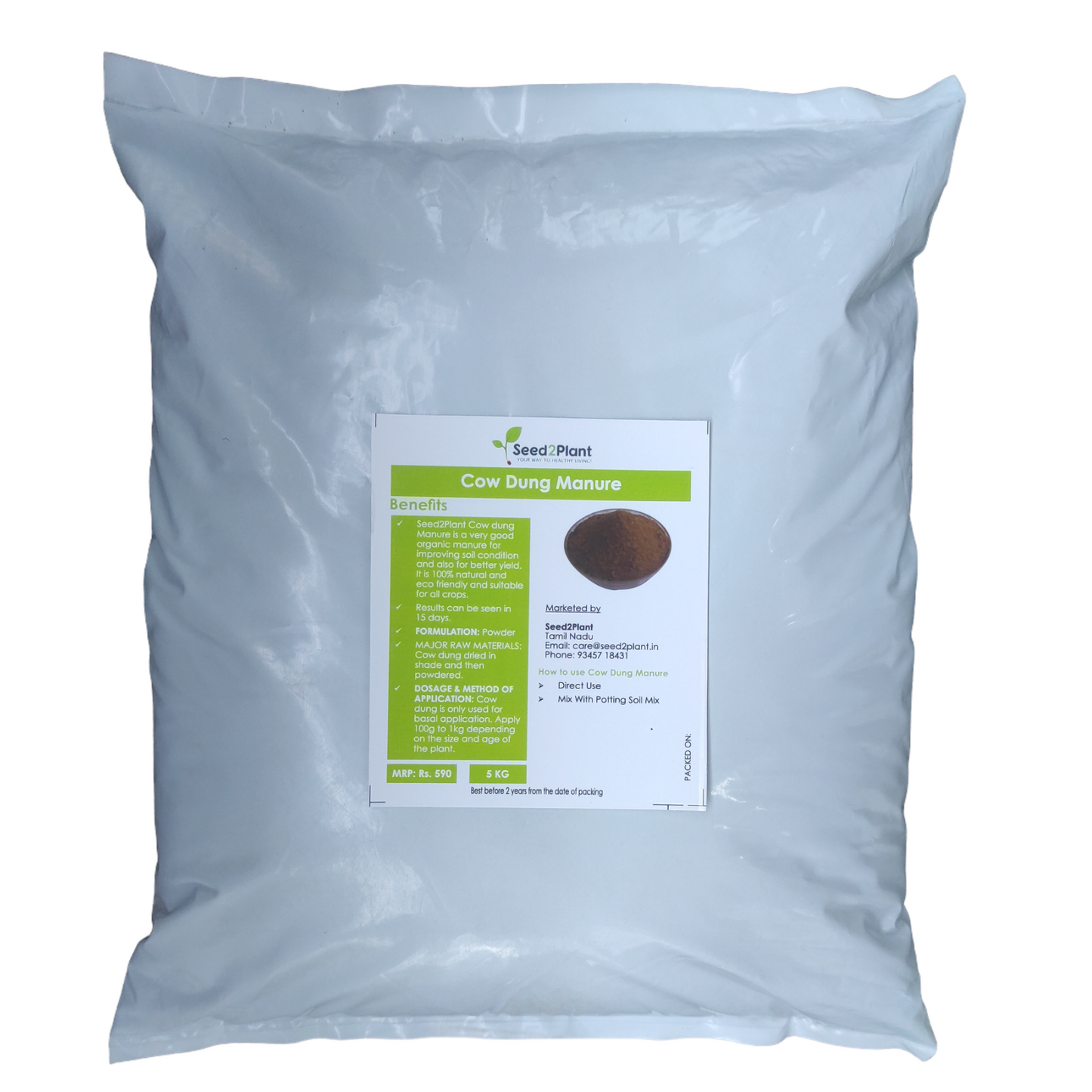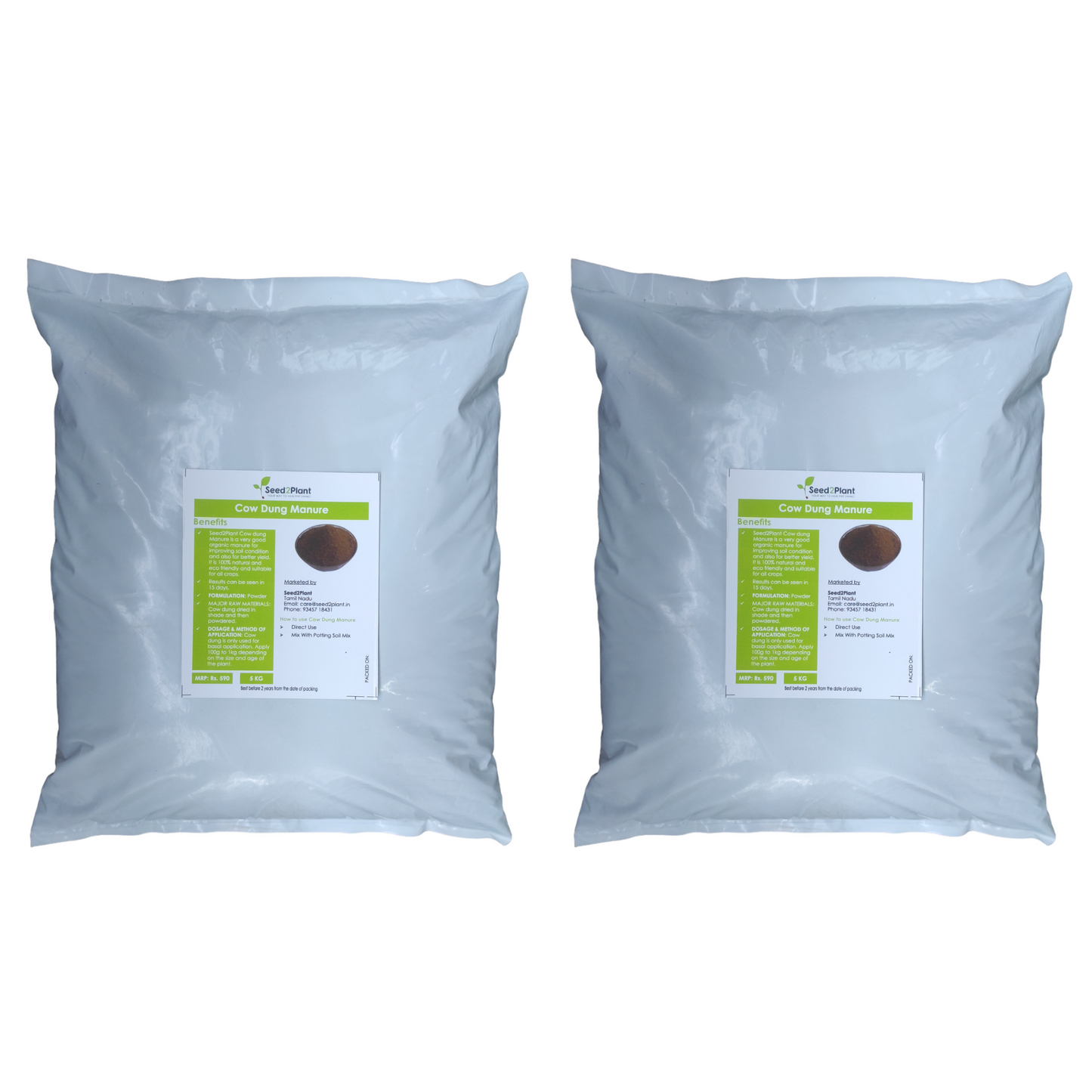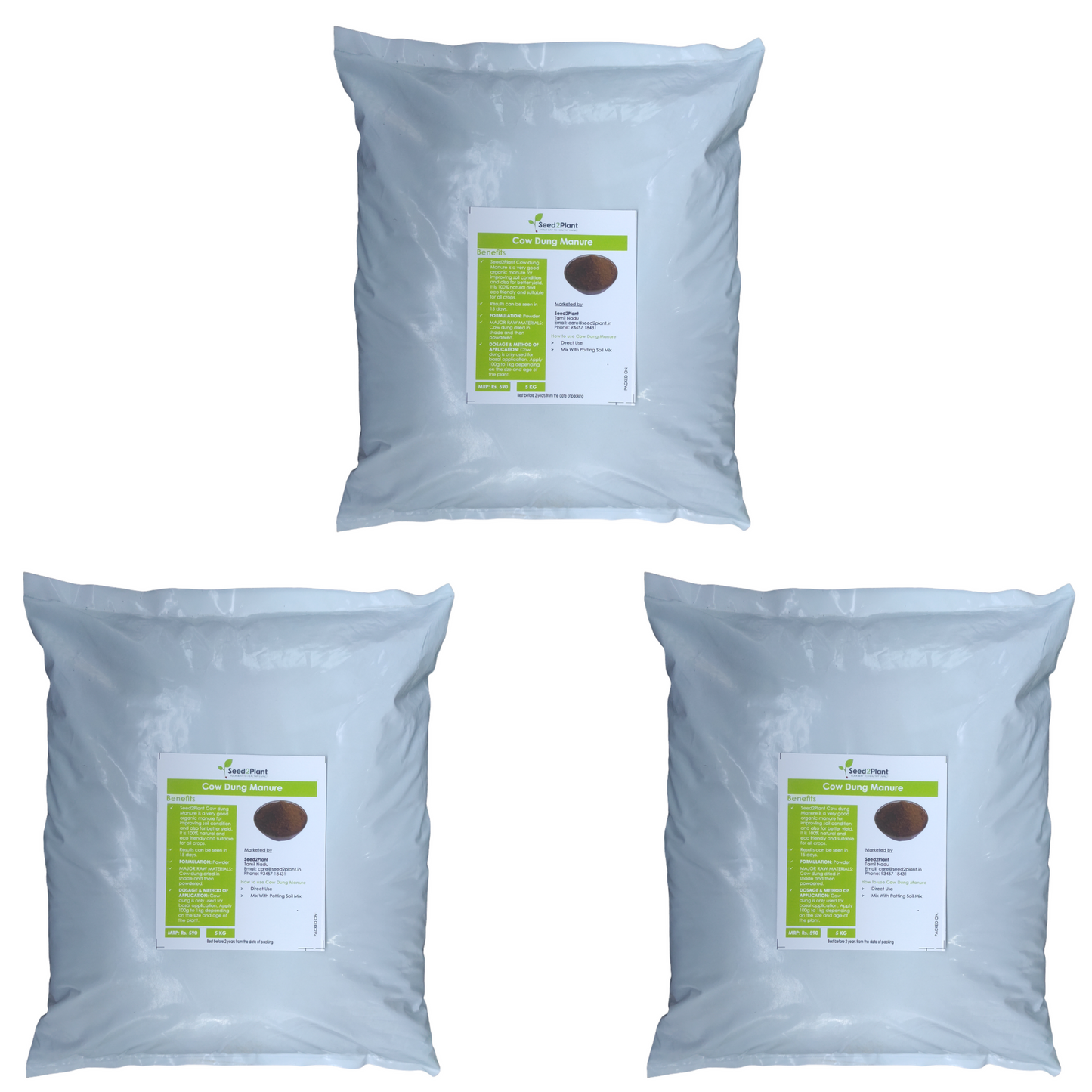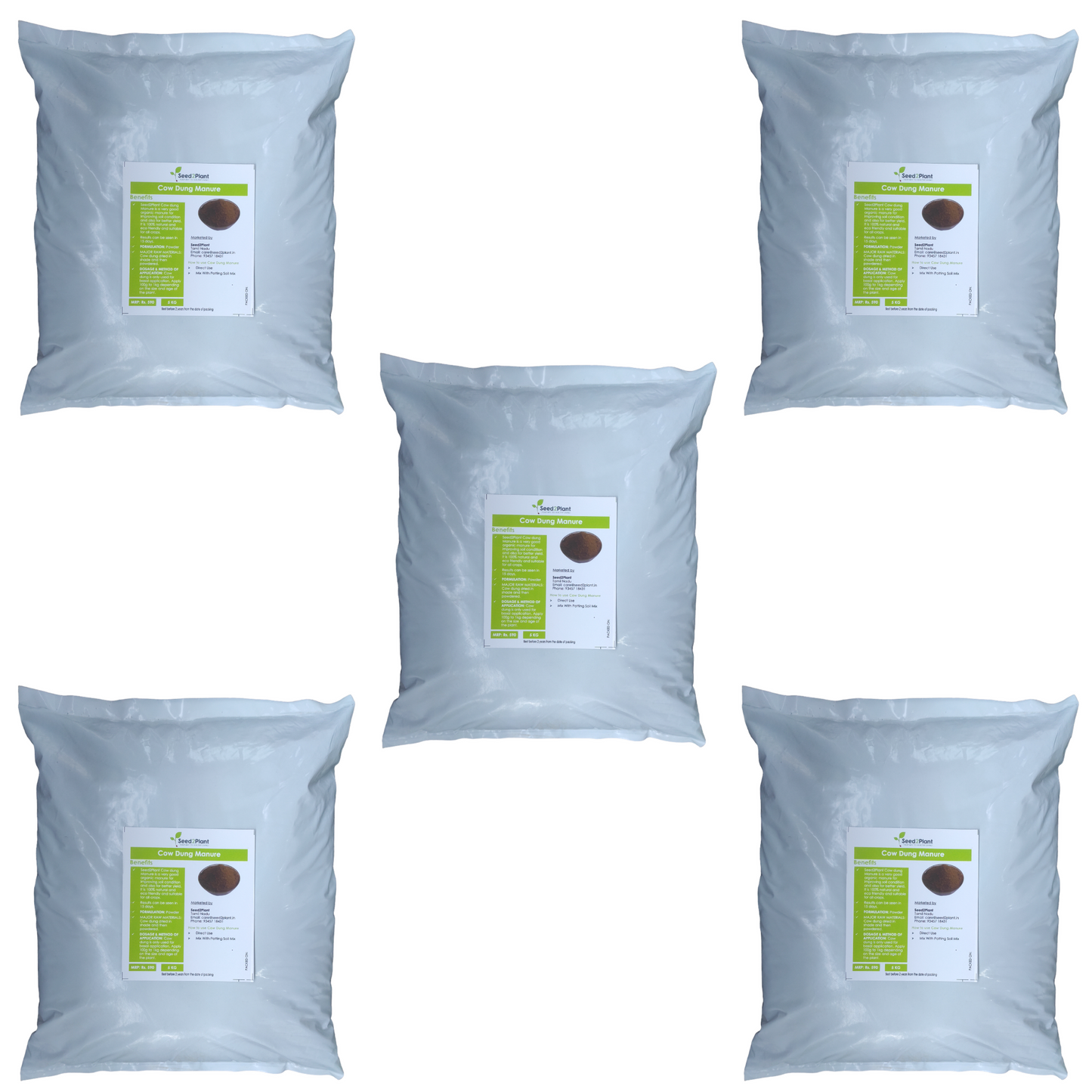 Why Decomposed Cow Dung is safe and beneficial for plants?
Property
Decomposed Cow Dung
 Dried Cow Dung
Cow Dung
Moisture Content
Low
Very Low
High
Odor
Minimal
Moderate
Strong
Texture
Granular Crumbly, easily absorbed
by
the roots
Hard, brittle
Wet
Nutrient Content
High

Moderate

Moderate

Weed Seeds
Low

Moderate

High
Pathogens
Minimal

Moderate

High
Uses
Fertilizer, Soil Conditioner

Fuel, mosquito
repellent,
ritual use

Fuel, construction 
material

 

 
Completely

organic cow dung manure

, rich in minerals like nitrogen, potassium and phosphorus.

Contains

3-2-1 NPK

- 3 percentage of nitrogen, 2 percentage of phosphorus and 1 percentage of potassium.

Facilitates the growth of useful microorganisms

by increasing soil moisture and texture.

Available as 1KG bags - better for

home and terrace gardens

targeting individual plants.

Easy absorption - dried powdered cow dung are

easily absorbed by soil

improving the overall soil health.
Why Cow Dung Manure?
Cow dung is traditionally used as soil manure. Dried powdered cow dung manure for plants acts as an effective fertiliser essentially enriching the nutrient content in the soil while improving aeration and moisture. Cow dung manure breaks down complex soil particles, improving the texture of compacted soil making it easy for plants to absorb nutrients.  
Processing the Best Organic Manure
Seed2Plant collects cow dung from traditional cattle farmers and small landholders, drying them as composts, thereby creating an easy way to enrich the soil. The powder increases convenience and eases application and absorption into the soil. 
Cow dung increases the essential microorganisms and presence of minerals like nitrogen, phosphorus and potassium. It contains about 3 percent of nitrogen, 2 percent of phosphorus and 1 percent of potassium (3-2-1 NPK). It can support the growth of beneficial microorganisms when it's mixed with soil. It can also improve the texture of the soil and help it to maintain moisture.
Nitrogen helps in leafy green growths. Phosphorus is essential for strong root development that in turn facilitates flowering and early development of fruits while aiding the absorption of other essential nutrients. Potassium facilitates overall growth from the root to the top of the plant. 
How to Tips
Fresh cow dung cannot be used directly in the soil. They have to be composted to eliminate the risk of pathogens growth. Cow dung is prone to contain germs and insects. Seed2Plant ages and composts the cow dung before drying and powdering to maximise the benefits. This process eliminates the presence of gut bacteria like E.coli - providing pure organic manure that enriches the soil. Mixing cow dung powder for house plant potting helps in faster seedling growth.
Using cow dung for plants grown in containers and designated garden beds to provide more benefits than usage in open large farms. It will give enough boost to the newly planted seedling helping in fruiting and flowering faster. 
Add a part of cow dung manure while preparing potting soil to get the benefits right from the seedling stage.
An excellent choice for balcony and terrace gardens. Cow dung manures are an excellent replacement for chemical fertilisers and provide essential nutrients over long periods. 
Free delivery above ₹499

More you buy, more you save! 24 Hour dispatch and 5-7 days delivery.

Easy Returns

Changed your mind about the purchase? We are just a text/call away.

Quick and Friendly Support

Our helpful and courteous staff can help you via chat or phone.

Secure Payments

All transactions done on Seed2Plant are encrypted and safe.