Excellent Plant Food and Biofertilizer
Ask More on WhatsApp
Regular price
Rs. 460.00
Sale price
Rs. 299.00
Unit price
per
Sale
Sold out
THIS PRODUCT IS PROUDLY MADE IN INDIA
View full details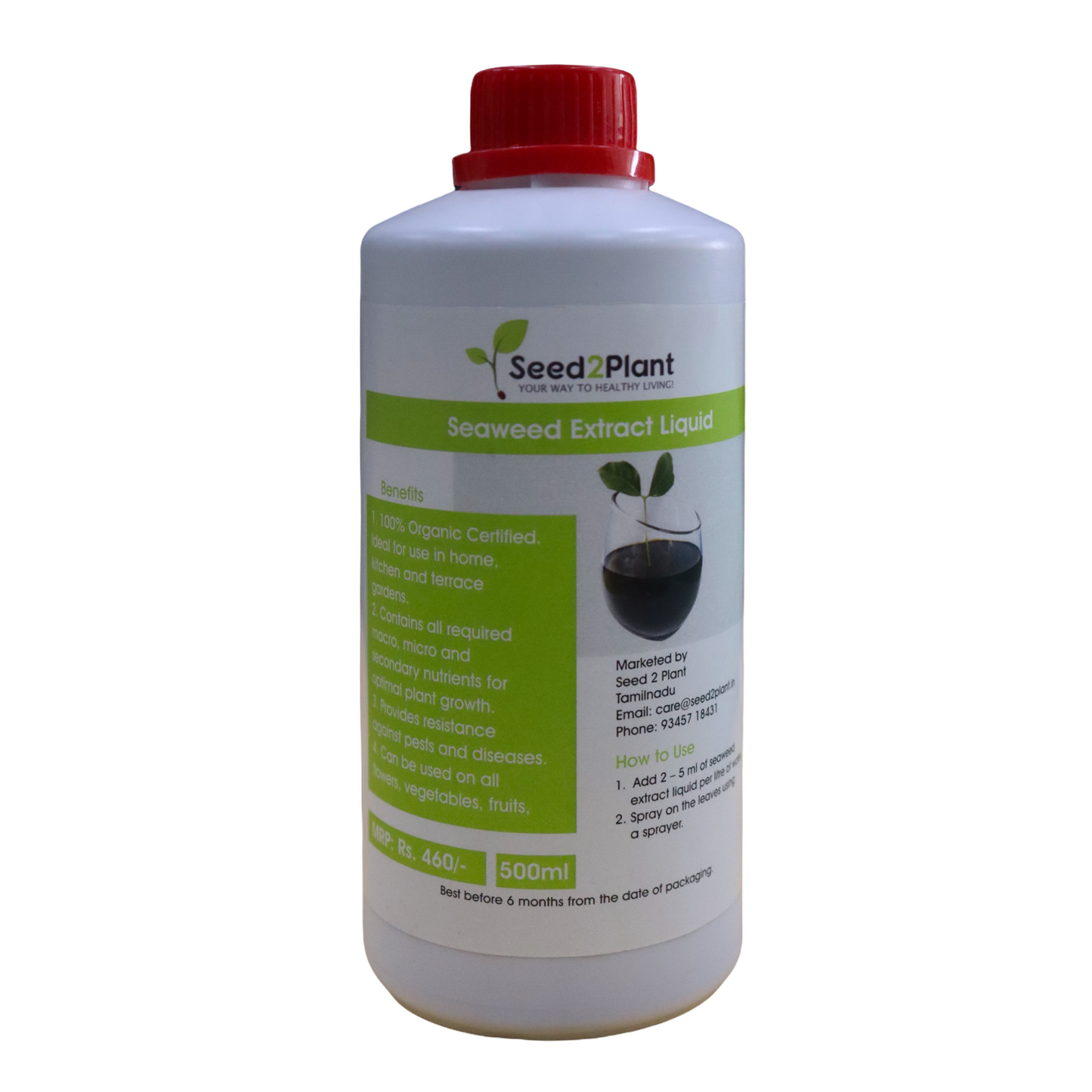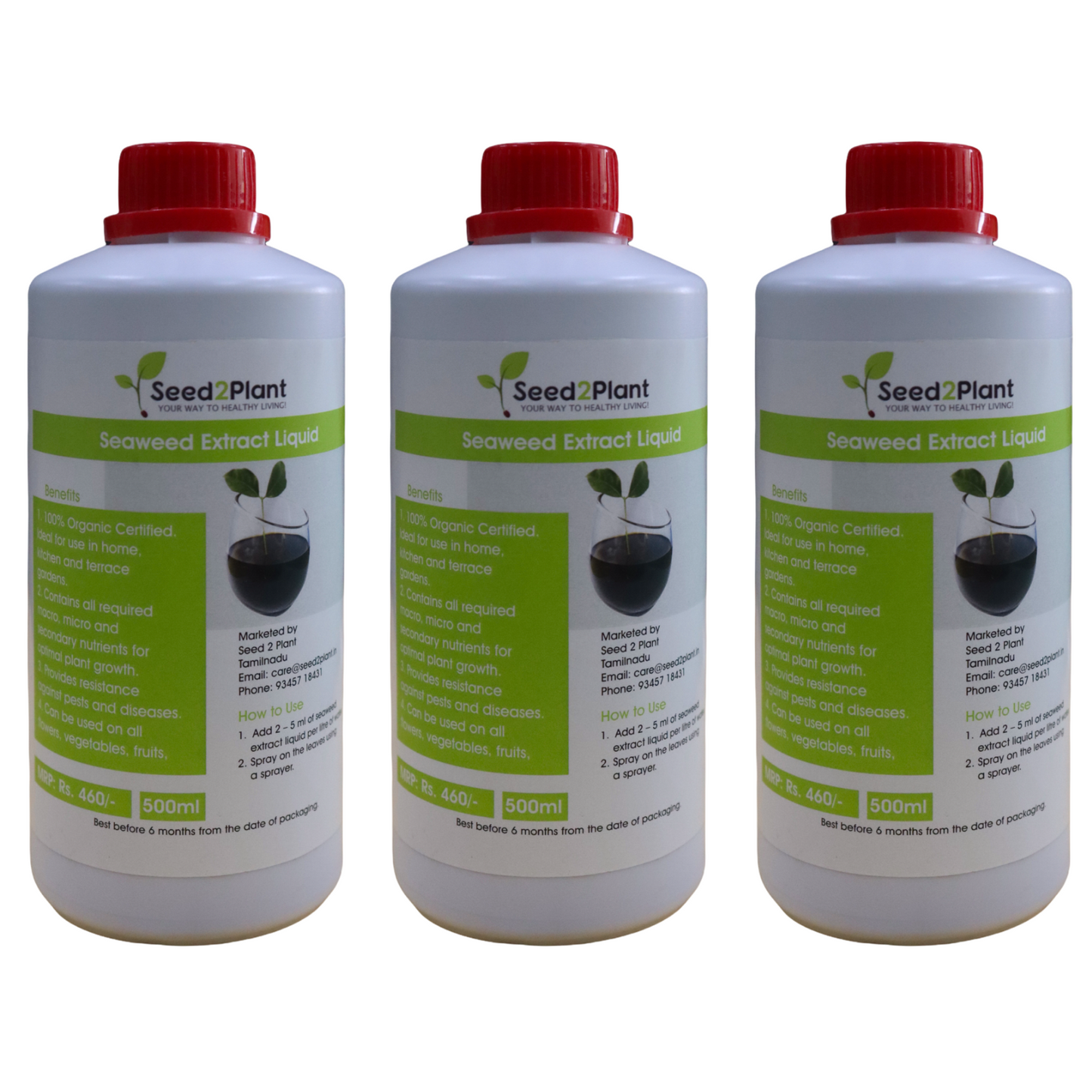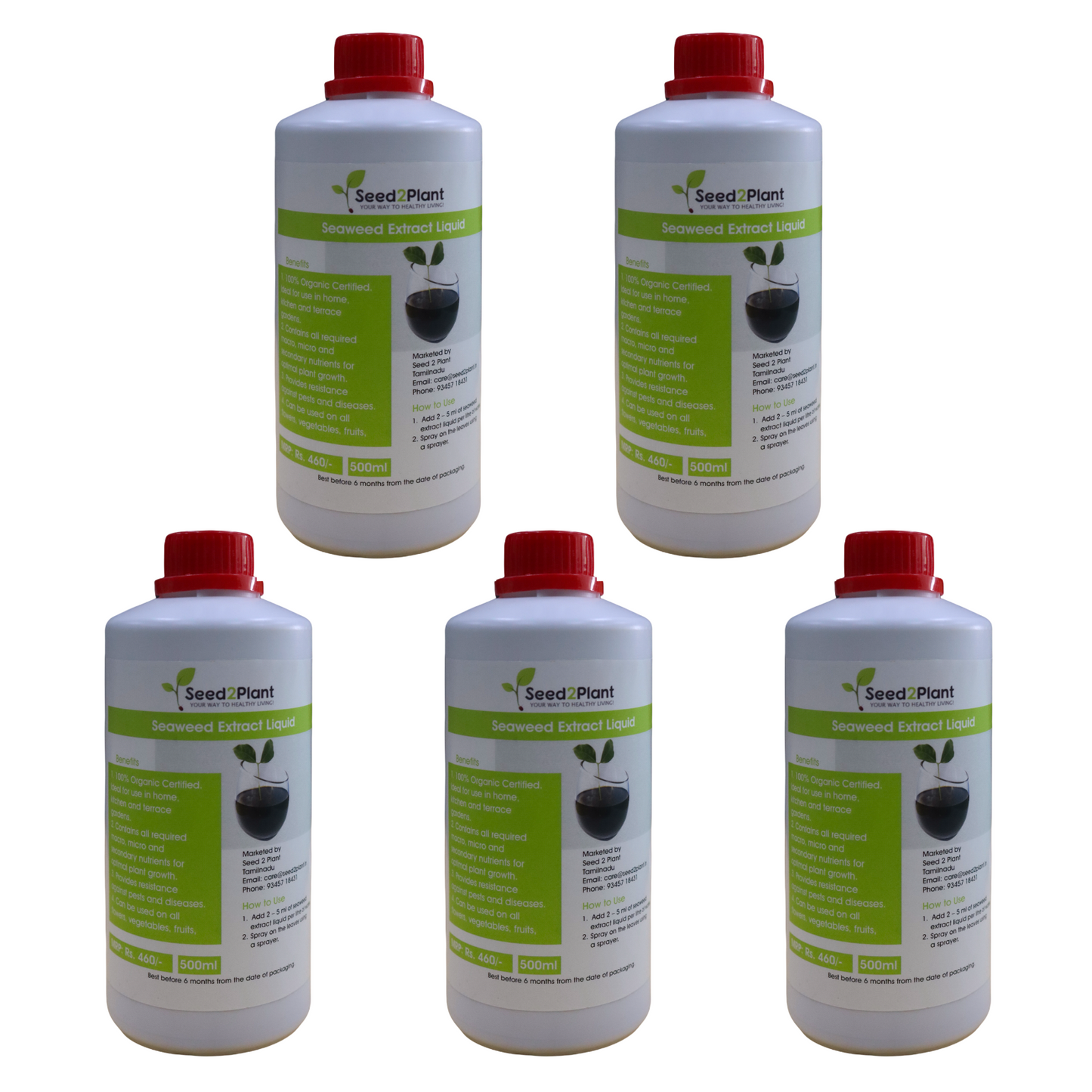 Product Description
Excellent source of

micro and macronutrients

in immediate form. 

Non-polluting

,

renewable

fertiliser that promotes the presence of growth hormones like

auxins

and

cytokinins

in plants. 

Increases

the fruit, flower and vegetable

yield

while also increasing their shelf life. 

Reduces

soil

salt

content and mineralisation.

Improves

seed

germination

and root development. 
Why Seed2Plant Seaweed Extract Liquid?
Seed2Plant Seaweed extract liquid is an organic, water soluble, easy to use, non-polluting, renewable plant food and biofertilizer obtained from cleaned and dried seaweed. The liquid  has 70 traces of vitamins, minerals and essential plant enzymes. In addition to macro and micronutrients, NPK (3000ppm), natural seaweed contains essential growth promotion harmonies like Cytokinins, Gibberellins and Auxins. The hormones control phototropism and plant cell elongation, in turn facilitating uniform growth throughout. By increasing seed development, the liquid fertiliser promotes additional budding while extending the shelf life of fruits, cut flowers and vegetables. 
Balance Nutrients
Adding seaweed extract to the soil enriches the capacity to fix atmospheric nitrogen making it easily available to the plants. The solution also lessens soil salt content and mineralisation residues promoting soil fertility. 
The solution contains 3000 parts per million of Nitrogen, Potassium, Phosphorus (NPK) and adequate amounts of Calcium, Magnesium, Zinc, Molybdenum and boron, ensuring a balanced nutrition supply. 
Improve Germination
The solution can be used to fasten germination. Placing the seeds in the solution will trigger early root development. The young seedling can be transplanted to the soil along with the liquid. 
The overall increase in blooming and yield can be witnessed. In addition, the solution enhances the taste of fruits. 
Organic Strengthening and Disease Control
When applied to crops the seaweed strengthens the quality by increasing nutrients and protein uptake. 
The micronutrients in the extract are readily available when applied to the plants making it the must-have organic garden counterpart. 
As a soil conditioner, the solution provides vigorous growth and boosts immunity against bacteria, fungus and pests. 
How to Use Seaweed Extract Liquid:
Add 2 to 5 ml of seaweed liquid extract to 1 litre of water and mix well

Spray this to the plants using a sprayer. It is recommended to spray on plants before sunrise or after sunset to avoid burning leaves.

For fruit plants - Spray 2ml in 1 litre of water every 12 days. Start this cycle after 15 days of planting and continue till fruiting. 

For vegetables/ crops - Spray 2ml in 1 litre of water every 12 days. Start this cycle after 15 days of sowing and continue till yield.
Quantity - 500 ML
Excellent results
I have used this a few times on my plants. I sprayed this. It's working wonders. Good growth and flowering.
Excellent performance excepting for the smell, My Shankhpushpi (Aparajita) creepers Which were not flowering for the last 2 months started flowering also became bushy and Greeny.
Very food products useful 👌 👍
Free delivery above ₹499

More you buy, more you save! 24 Hour dispatch and 5-7 days delivery.

Easy Returns

Changed your mind about the purchase? We are just a text/call away.

Quick and Friendly Support

Our helpful and courteous staff can help you via chat or phone.

Secure Payments

All transactions done on Seed2Plant are encrypted and safe.