Loosen Soil for Planting, Remove Unwanted Weeds, Mix Fertilizers and
Ask More on WhatsApp
Regular price
Rs. 150.00
Sale price
Rs. 100.00
Unit price
per
Sale
Sold out
THIS PRODUCT IS PROUDLY MADE IN INDIA
View full details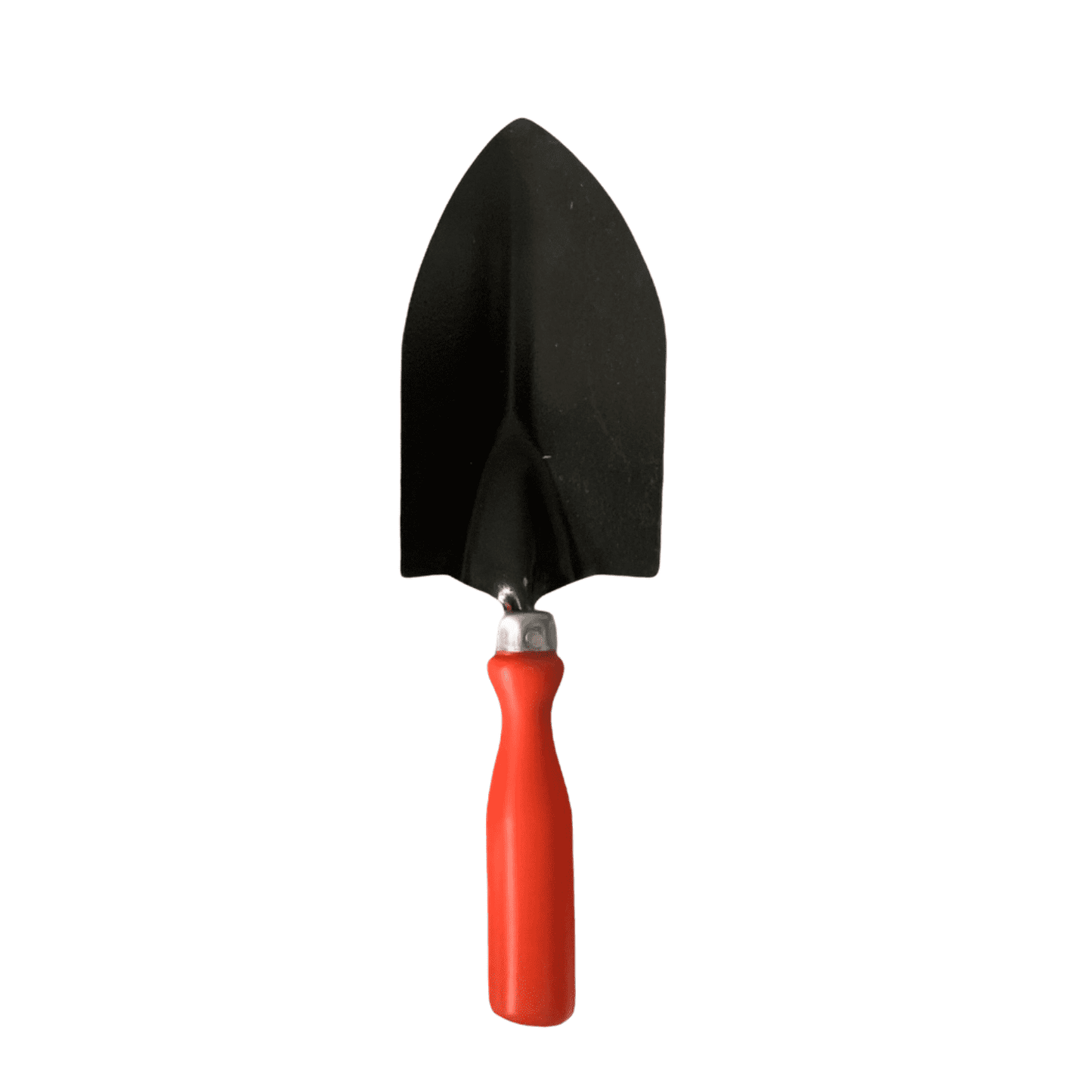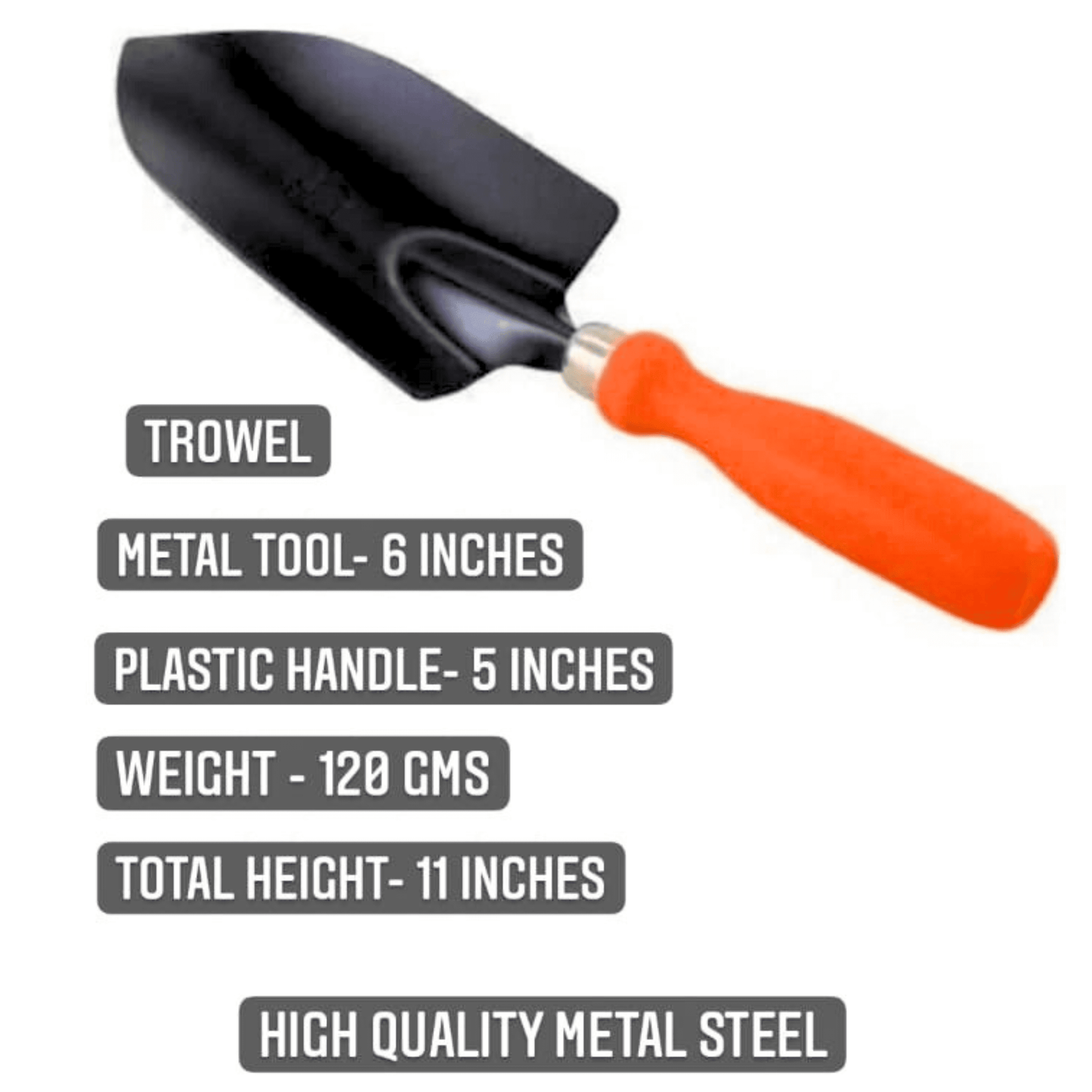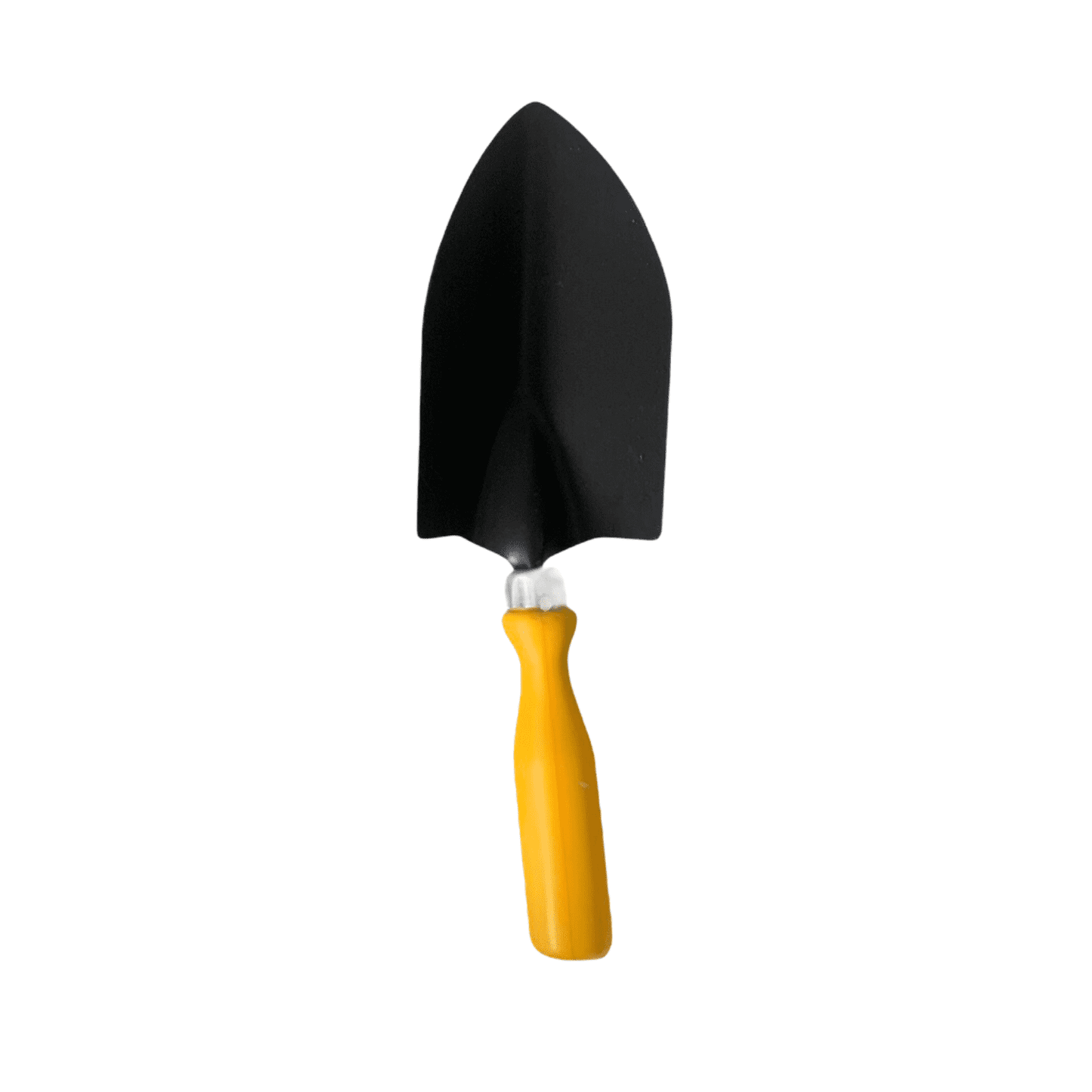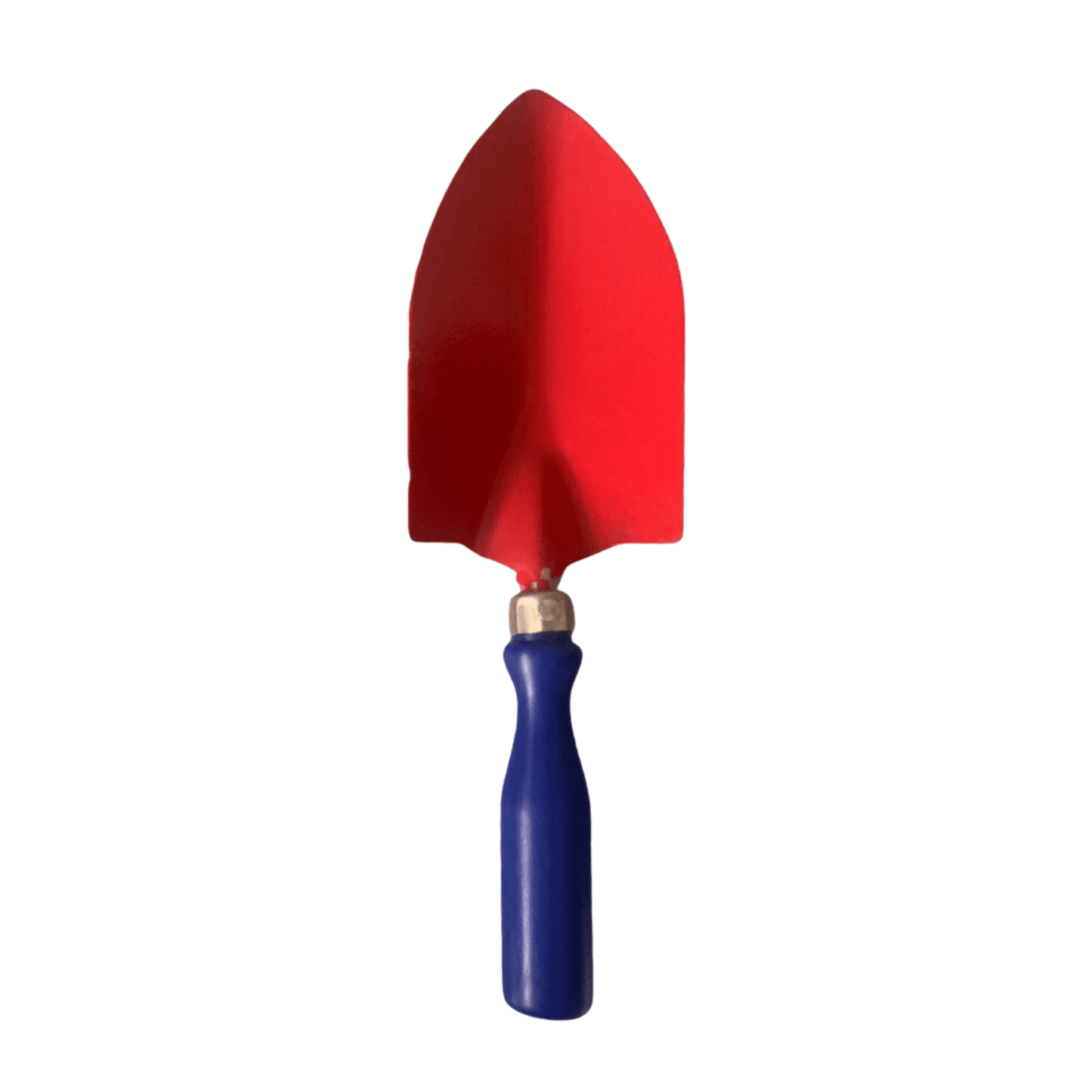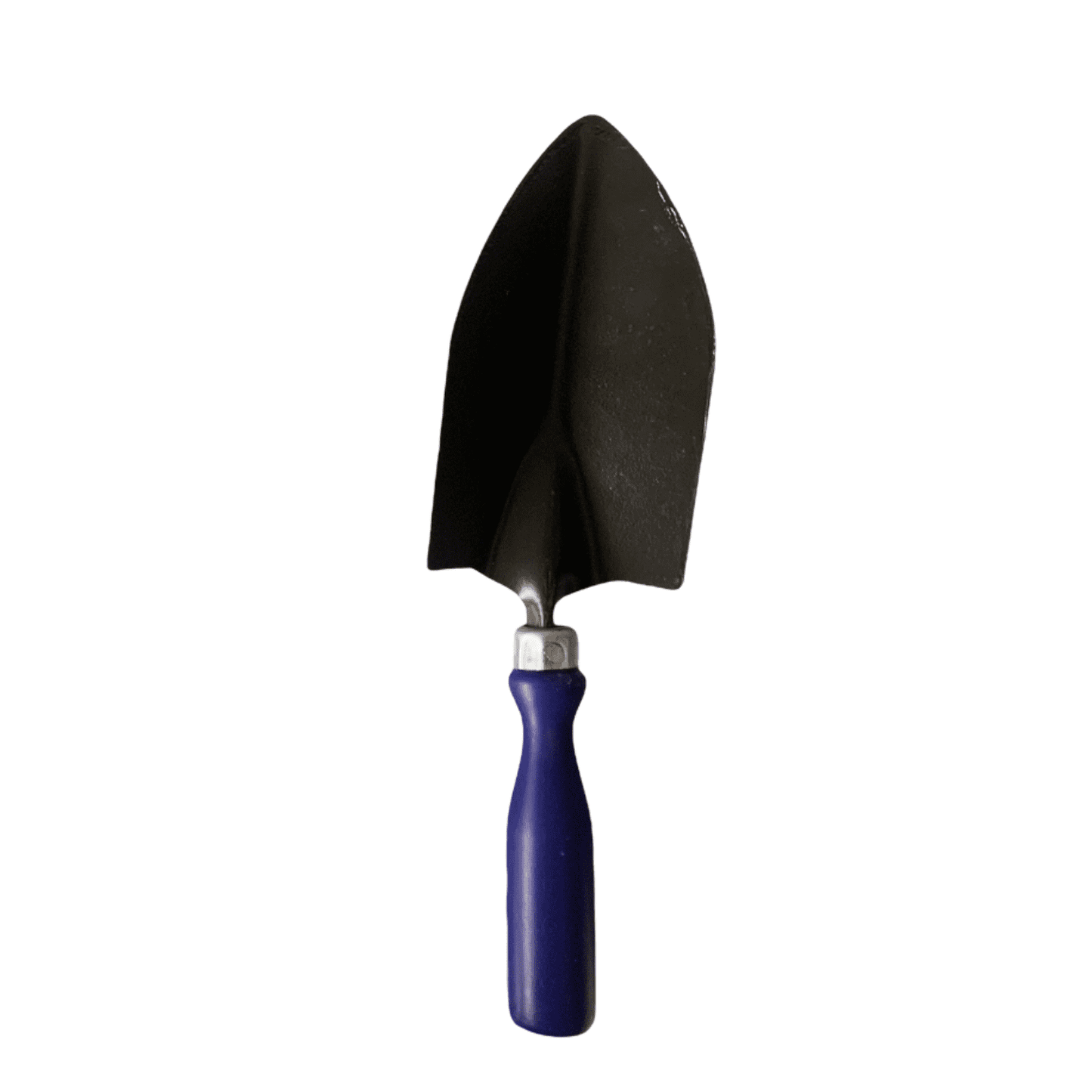 | | |
| --- | --- |
|  Metal Tool | 6 Inches |
|  Plastic Handle | 5 Inches |
|  Weight | 120 Gsm |
|  Total Height | 11 Inches |
The trowel is a handheld big gardening tool that is used to

dig holes for planting, mix composts, fertilizers or other compounds and remove weeds. 

The trowel is an essential tool to

transfer the plants to the pot

. Young fragile seedlings need the support of tools like trowels to be safely transferred to bigger grow bags. 

The trowel looks like a

handy shovel

. It is specifically useful to plant bulbs and annuals and perennial plants.

Trowels can also be employed to

till the soil

. Loosening up the soil is an important step to support the healthy growth of plants and facilitate moisture retention, healthy root growth and efficient nutrient absorption. 
What is a Trowel?
A trowel is a gardening essential tool that has scoop-like tilted flat edges attached to a plastic handle. It is essentially a tiny shovel used to till the soil and work with smaller plants transplanting. They can be used to break up the compact soil and mix fertilizers. With a sturdy plastic handle, Seed2Plant trowels offer a better grip to efficiently execute many gardening functions. 
How to Use a Trowel
1.Transplant flowers
The broad base of the trowel makes it an efficient tool to transfer young saplings and seedlings. Fit the trowel around the plant root cluster, carefully lifting the sapling before placing it in a bigger pot. It is specifically useful to plant bulbs and annuals and perennial plants.
Note: It is important to clean the trowel after every use so that the presence of fungal infections and other microorganisms can be eliminated.
2.Mixing and tilling
Another use of the trowel is to till the compact soil, mix fertilizers/ composts with garden soil. Every plant needs its dose of natural fertilizers, pesticides or fungicides to grow healthily. These fertilizers when added into the pot or around the plant root should be mixed well with the potting soil for efficient absorption by plants. Trowel comes to the use by helping mix the potting soil ingredients around the plant. 
3.Dig holes and remove weeds
The shovel-like edges of the trowel make it an efficient tool for digging small holes in the garden. The use of the trowel is, however, restricted to the compactness of the soil. Digging holes in tight, compact soil will be harder with a trowel. The same applies to removing weed growth around healthy plants. The long slender blades of the trowel can be employed in removing smaller weeds. Long taproot weeds can be cleared with a trowel with the aid of another essential gardening tool, weeder. 
Transport
The transport facility was very poor. I placed the order on 01/06/2022 but I did not receive it till 23/06/2022 and not once but twice. All their products are very good except transport facilities
Hi Sir
We will definitely work on improving our courier service.
Regards
Team Seed2Plant
Very useful
The tool is very sturdy and we are using it for mixing the potting mix and manure. Looks very durable and very happy we have it for our garden!
Good and strong
Liked the product. It's good, sufficiently wide n strong
Good quality
I am a beginner in gardening. So purchased this for the first time. It is looking awesome. And the quality is good too.
Thank you for this.
Free delivery above ₹499

More you buy, more you save! 24 Hour dispatch and 5-7 days delivery.

Easy Returns

Changed your mind about the purchase? We are just a text/call away.

Quick and Friendly Support

Our helpful and courteous staff can help you via chat or phone.

Secure Payments

All transactions done on Seed2Plant are encrypted and safe.