Super light mineral pockets to improve aeration and moisture retention
Ask More on WhatsApp
Regular price
Rs. 420.00
Sale price
Rs. 290.00
Unit price
per
Sale
Sold out
THIS PRODUCT IS PROUDLY MADE IN INDIA
View full details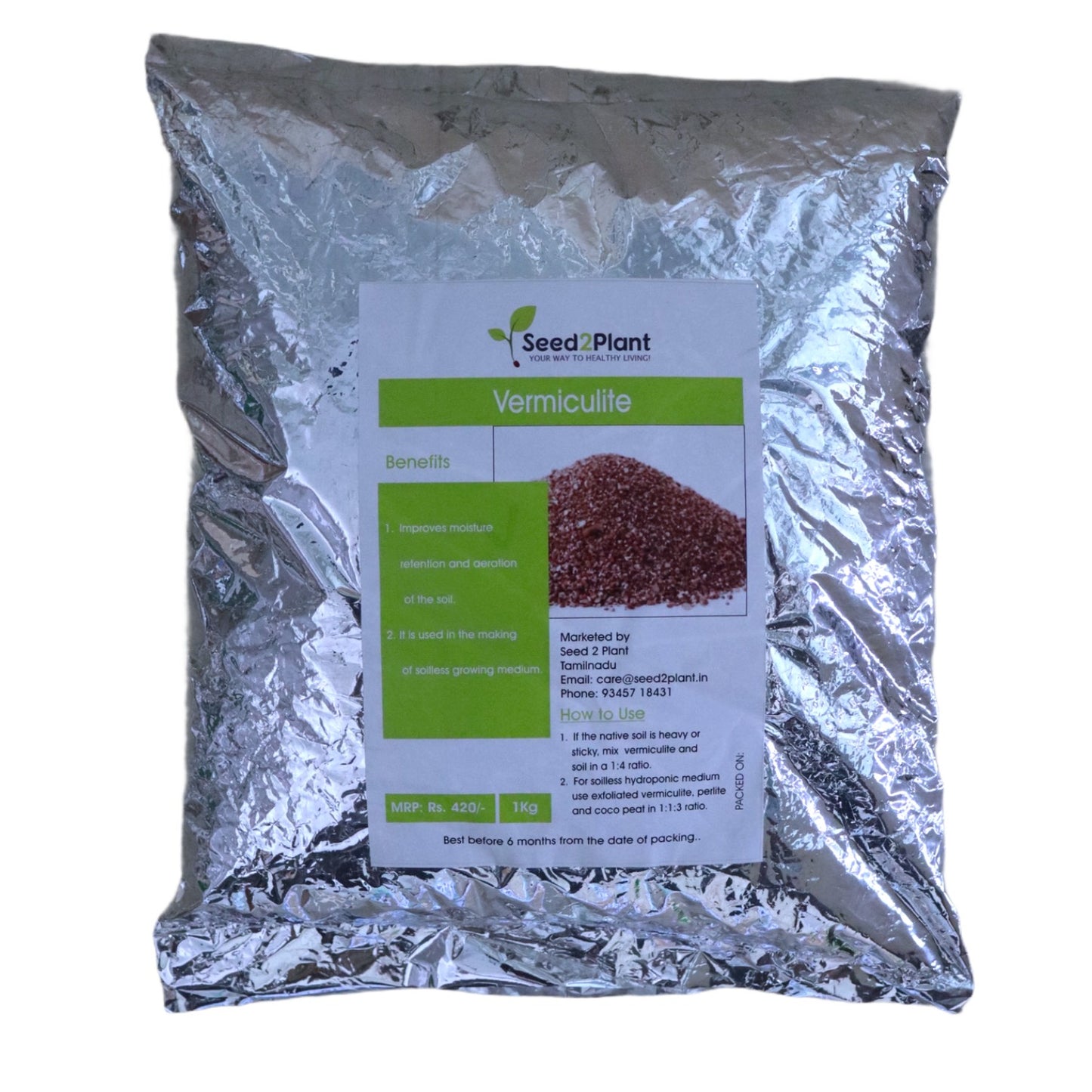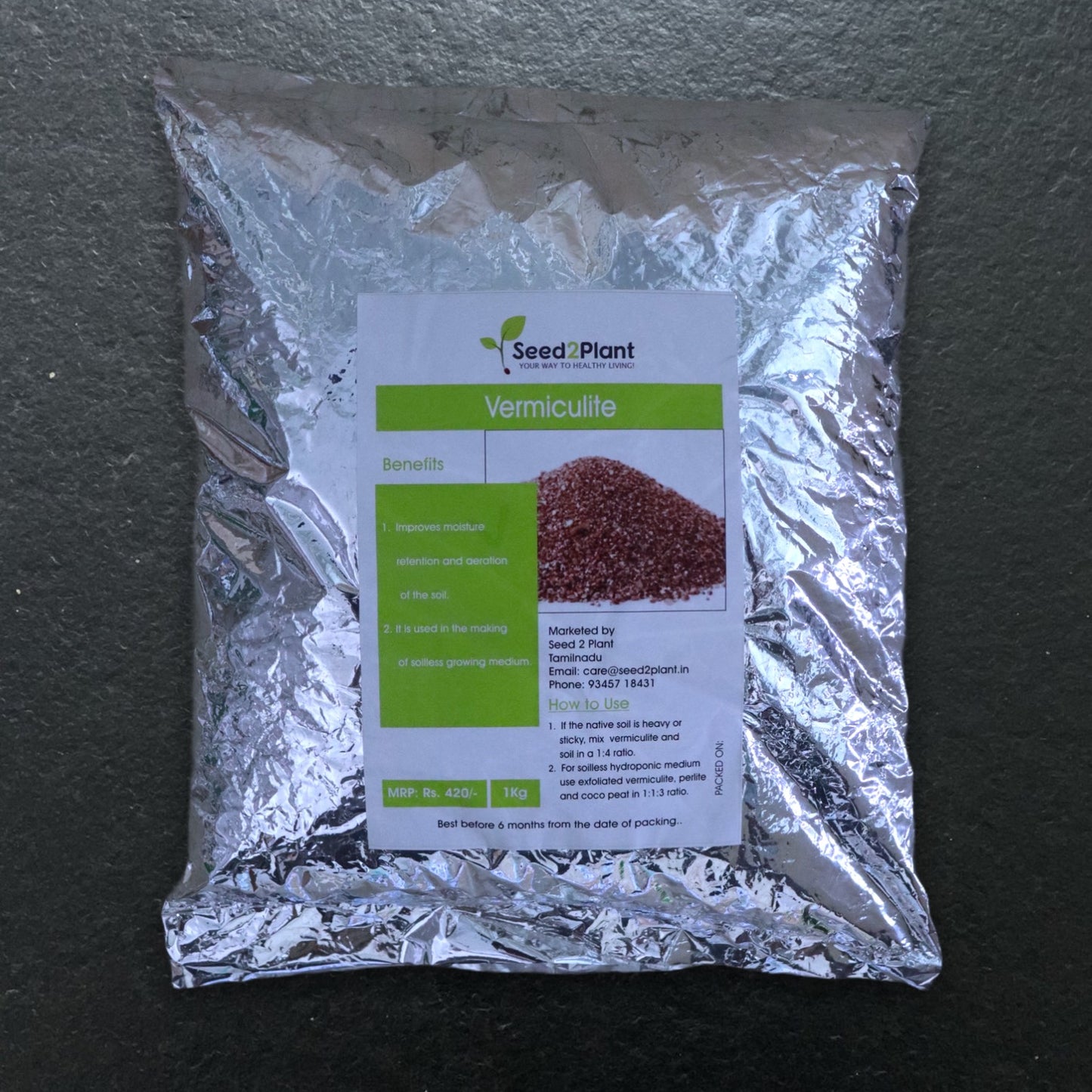 Exfoliated Vermiculite is a

hydroponic growing medium

that is easy to mix with garden soil. 

It increases

soil aeration

and promotes the

growth of roots

. 

Vermiculite is

sterile

i.e., it won't alter the soil pH. 

It is a

lightweight

addition to the soil that supports the smooth growth of roots and prevents root rots.

Facilitates easy absorption of

ammonium, calcium, magnesium and potassium. 
Vermiculite is a super light, wood-like particle that is prepared by heating hard minerals (magnesium-aluminum-iron silicate). The process of enormous heating turns the minerals into small airy pockets that could retain moisture and provide an amiable environment for moisture-loving houseplants to grow healthily. Vermiculite comes in different sizes. Larger particles can be used solely for growing seedlings while smaller particles can be easily mixed with any soil medium. It is a long term solution for fruits and vegetable plants that love moisture. 
Vermiculite Advantages
Exfoliated vermiculite tremendously increases soil aeration thereby preventing root rot and wilting. Maintaining sufficient air circulation will also increase the moisture and nutrient retention capabilities of soil and facilitate easy absorption by roots. It is especially beneficial for germination and for growing succulents. 

Vermiculite is sterile i.e., it won't alter the soil pH. 

It mixes well with any type of soil medium and does not change shape with water or moisture retention. 

It is a lightweight addition to the soil. Lighter soil will promote root growth and its propagation quickly. 

Medium grade vermiculite can support root cutting. The roots can be inserted directly into the well-watered vermiculite. 

Facilitates easy absorption of ammonium, calcium, magnesium and potassium. 
How to Use

The best proportion of adding vermiculite is

1/6 Vermiculite, 1/3 perlite or sand with 1/2 (half) soil.
For soilless hydroponic medium use exfoliated vermiculite, perlite and coco peat in a 1:1:3 ratio.

To eliminate hard, packed soil in pots/ grow-bags or containers, mix vermiculite with soil in the ratio of 1/2 (soil):1/6 (vermiculite):1/3 (sand and compost). For better results, mix vermiculite with coco peat or composts to improve aeration and water retention. It reduces watering frequency and facilitates root spreading. 

To transplant seedling using vermiculite, dig a hole 15 cm larger than the plant roots and fill it with a mix of vermiculite, compost and topsoil. This also facilitates root growth and prevents drying out in summer. 

For bulbs, roses and tomatoes use up to 8 cm of vermiculite with garden soil. The sponge-like texture will keep the plants healthy and protect them from extreme temperatures. It is also effective in preventing fungal attacks like powdery mildew in flowering plants.
Exfoliated Vermiculite
It was looking shiny and pretty. Product came without a damage.
Free delivery above ₹499

More you buy, more you save! 24 Hour dispatch and 5-7 days delivery.

Easy Returns

Changed your mind about the purchase? We are just a text/call away.

Quick and Friendly Support

Our helpful and courteous staff can help you via chat or phone.

Secure Payments

All transactions done on Seed2Plant are encrypted and safe.