Discover the Exotic Beauty of Water Jasmine in Your Own Backyard
Ask More on WhatsApp
Regular price
Rs. 729.00
Sale price
Rs. 539.00
Unit price
per
Sale
Sold out
THIS PRODUCT IS PROUDLY MADE IN INDIA
Watch Product Video
View full details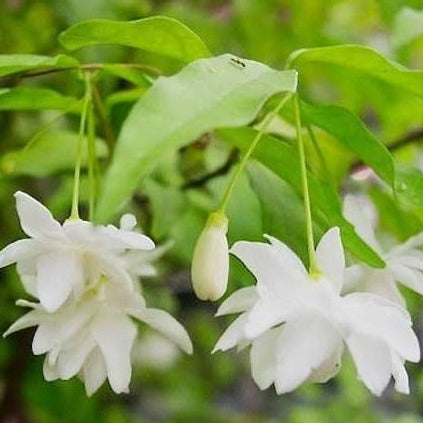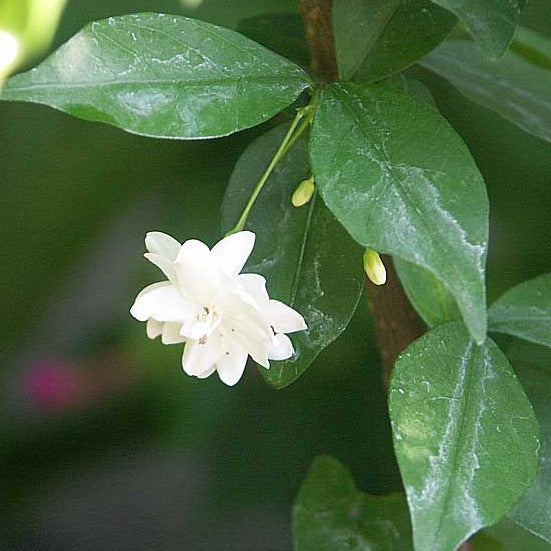 | | |
| --- | --- |
| Plant Type | Well Rooted Plant |
| Plant Size  | Approximately 2 ft |
| Botanical Name | Wrightia religiosa |
| Flowering Frequency | Throughout The Year |
| Maintenance Required | Easy |
Water Jasmine Double Petal (Wrightia religiosa) - Transform Your Garden into a Tropical Oasis
Immerse yourself in the enchanting world of the Water Jasmine Double Petal (Wrightia religiosa), a rare horticultural treasure now available at Seed2Plant.in. Native to the lush landscapes of Cambodia, Laos, Malaysia, Thailand, and Vietnam, this exquisite plant is a perfect addition to Indian gardens, offering a unique blend of aromatic delight and visual splendor.

Why Choose Water Jasmine Double Petal?

Exotic Allure Year-Round:
 Adorned with variegated leaves and highly fragrant, double-petaled flowers, this plant provides a continual display of beauty, making it a standout in any garden.

Versatility in Cultivation:

While not sold as a bonsai, our Water Jasmine saplings offer the potential for you to craft your own bonsai masterpiece, or to grow it as a striking ornamental piece or a dense, lush hedge.

Aesthetic Appeal:
The intricate patterns on each leaf and the sophisticated blooms create a visual banquet, enhancing the charm of your garden.

 Cultivation and Care:
Light and Temperature Needs:
Thrives in sunlight and temperatures between 15°C to 35°C. Utilise shade nets in hotter climates to protect its delicate beauty.

Soil and Watering:
Prefers well-draining, organically rich soil with a pH of 6.0 to 7.0. Water when the topsoil feels dry, avoiding over-watering to prevent root rot.

Fertilisation for Growth:

Boost its growth with organic fertilisers such as bone meal, seaweed extract, and cow dung manure, ensuring vibrant blooms and rich foliage.

Pruning and Potting:
Regular pruning after flowering encourages new growth and more flowers. Start in a 12x12 inch pot or grow bag, moving to an 18x18 inch as it grows.

Stay Vigilant:
Protect your plant from common pests like aphids, spider mites, and mealybugs.
Natural Defenses:
Use neem oil and Beauveria bassiana as organic solutions to safeguard your Water Jasmine against pests.

In a Nutshell:

Ideal for garden enthusiasts looking to add a touch of the tropics to their space.
Perfect for growing as a unique bonsai, ornamental plant, or hedge.
Requires minimal maintenance for optimal growth and flowering.
Free shipping on all 

Flowering Plants
Note: There are quite a few processes and steps to be done by us to make sure the plants are shipped very safely. Hence please allow us 5-7 business days for processing and shipping your orders. Orders are usually shipped on Mondays and Tuesdays to ensure that the shipments are not held up during weekends.
Plants if damaged while transit will be replaced free of cost. We will need uncut unboxing video for processing the replacement
Free delivery above ₹499

More you buy, more you save! 24 Hour dispatch and 5-7 days delivery.

Easy Returns

Changed your mind about the purchase? We are just a text/call away.

Quick and Friendly Support

Our helpful and courteous staff can help you via chat or phone.

Secure Payments

All transactions done on Seed2Plant are encrypted and safe.