Annual plant tested to have 80-95% germination

Ask More on WhatsApp

Regular price

Rs. 80.00

Sale price

Rs. 50.00

Unit price

per

Sale

Sold out

Number of seeds in a packet: 50+

Latest Germination Test: November, 2023

Germination Percentage: 95%

THIS PRODUCT IS PROUDLY MADE IN INDIA

View full details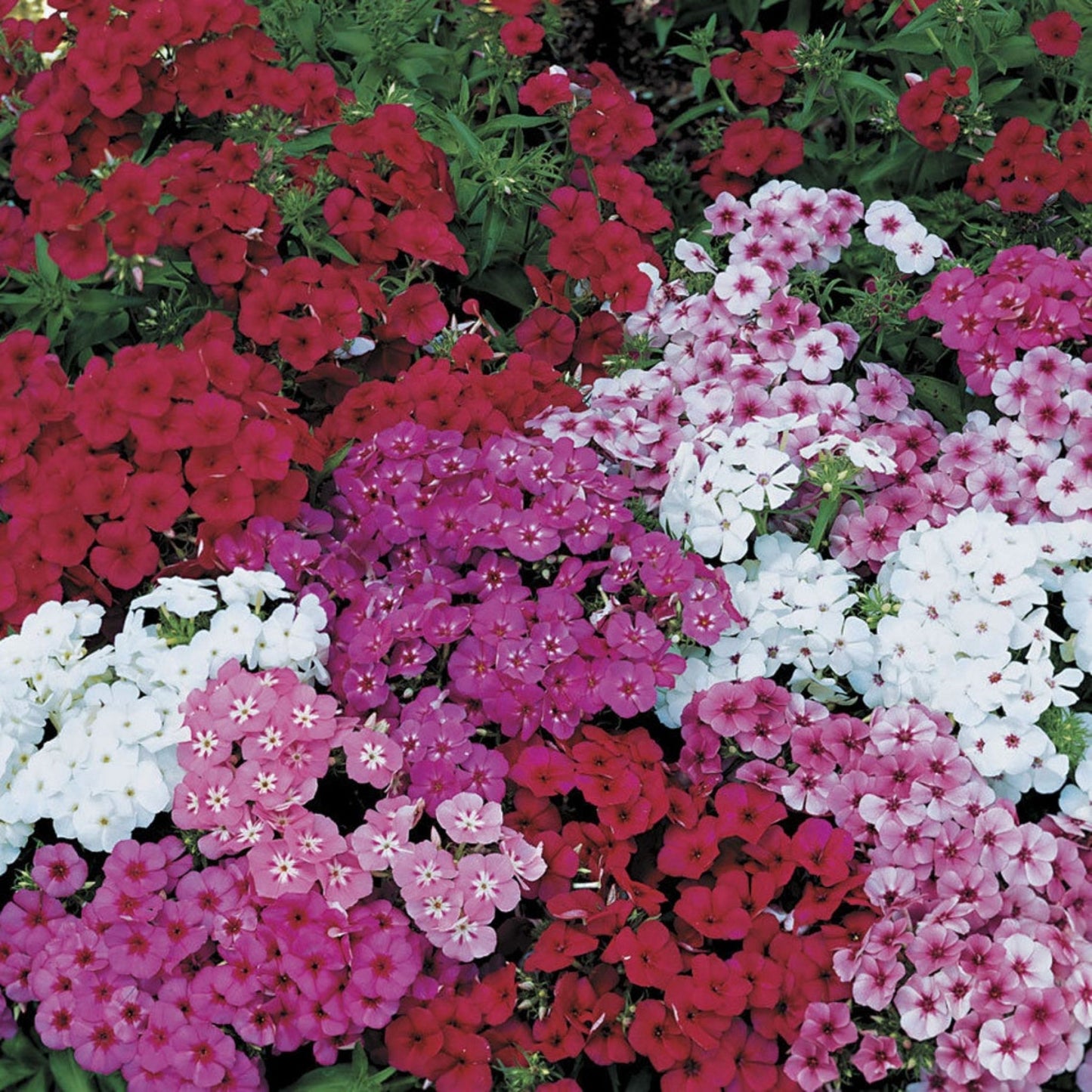 Product Description
Phlox drummondii is an

annual

flowering plant.

The best time to plant is in

spring

. Blooming season is spring or summer.

The plant produces blooms in

different colours

- red, cream, white, pink, lilac and rose.

There are more than

60 different species

of Phlox Drummond, each with its unique characteristics and benefits. 

The flowering plant blooms before maturity

within one year

of sowing. 
Phlox drummondii commonly known as the annual phlox or Drummond's phlox is a flowering plant that is mostly used for ornamental purposes. It belongs to the genus Phlox of the family Polemoniaceae. The flowering plant is native to Texas, United States of America but is grown extensively in households around the world. The flowers bloom in a variegated range of colours ranging from white, cream, pinks, lilacs, roses, purples and reds. Sometimes it also blooms into an almost black flower. 
The ornamental plant is an annual plant growing from seed. The overall structure of the flowering plant increases its beauty. The sharp branches along with the pointed, elongated ciliated leaves and round flowers are a treat to the eyes. The flowers can be single or doubled. The flowers are lightly scented with flat star-shaped petals, On maturing, the flowering plant grows up to a diameter of 12 inches.
Specifications
| | |
| --- | --- |
| Botanical name | Phlox drummondii |
| Common name | Annual Phlox, Drummond Phlox, Pride-of-Texas |
| Type of the plant | Annual |
| Mature size | 6–12 inches tall, 6–12 inches wide |
| Sunlight requirements | Full sun 6-8 hours, partial shade |
| Soil Type | Moist but well-drained |
| Blooming season | Spring, summer |
| Common flower colours | Red, pink, purple, white, lilac |
| No. of Phlox Drummondi Grandiflora Mix Seeds | 50+ |
How to care for Phlox drummondii
It is best to plant the flower seeds in either the spring or fall. Phlox drummondii is a rather slow-growing plant, growing at a moderate pace. The plant reaches maturity slowly within two to three years after planting. Despite late maturity, the flowering plant will flower before maturity within the first year itself, adding beauty and elegance. 
Phlox drummondii can adapt to a variety of different soil conditions, as long as the soil is very aerated and loosely packed with good draining. The plant does not grow well in drought, wind and heat. 
Phlox needs a decent amount of sunshine to produce colourful blooms. The flower needs sunlight for at least 6-8 hours a day. 
It tolerates cold weather well but requires plentiful watering. It can tolerate temperatures as low as 30 degrees Fahrenheit. In places with less rainfall, the plant has to be watered often through the day to keep the soil sufficiently moist.
The plant requires frequent fertilising to produce lush blooms throughout the seasons. Nitrogen, Phosphorus and potassium have to be supplemented in scheduled intervals of time. The flowering plant requires a higher dose of potassium during the growing season to bloom faster and in clutters. Consider adding seaweed growth promoter liquid to ensure nutrient supply. 
Free delivery above ₹499

More you buy, more you save! 24 Hour dispatch and 5-7 days delivery.

Easy Returns

Changed your mind about the purchase? We are just a text/call away.

Quick and Friendly Support

Our helpful and courteous staff can help you via chat or phone.

Secure Payments

All transactions done on Seed2Plant are encrypted and safe.