Non-Hybrid, Open Pollinated, and Non-GMO. 80-95% Germination.

Ask More on WhatsApp

Regular price

Rs. 69.00

Sale price

Rs. 39.00

Unit price

per

Sale

Sold out

Number of seeds in a packet: 100+

Latest Germination Test: November, 2023

Germination Percentage: 92%

THIS PRODUCT IS PROUDLY MADE IN INDIA

View full details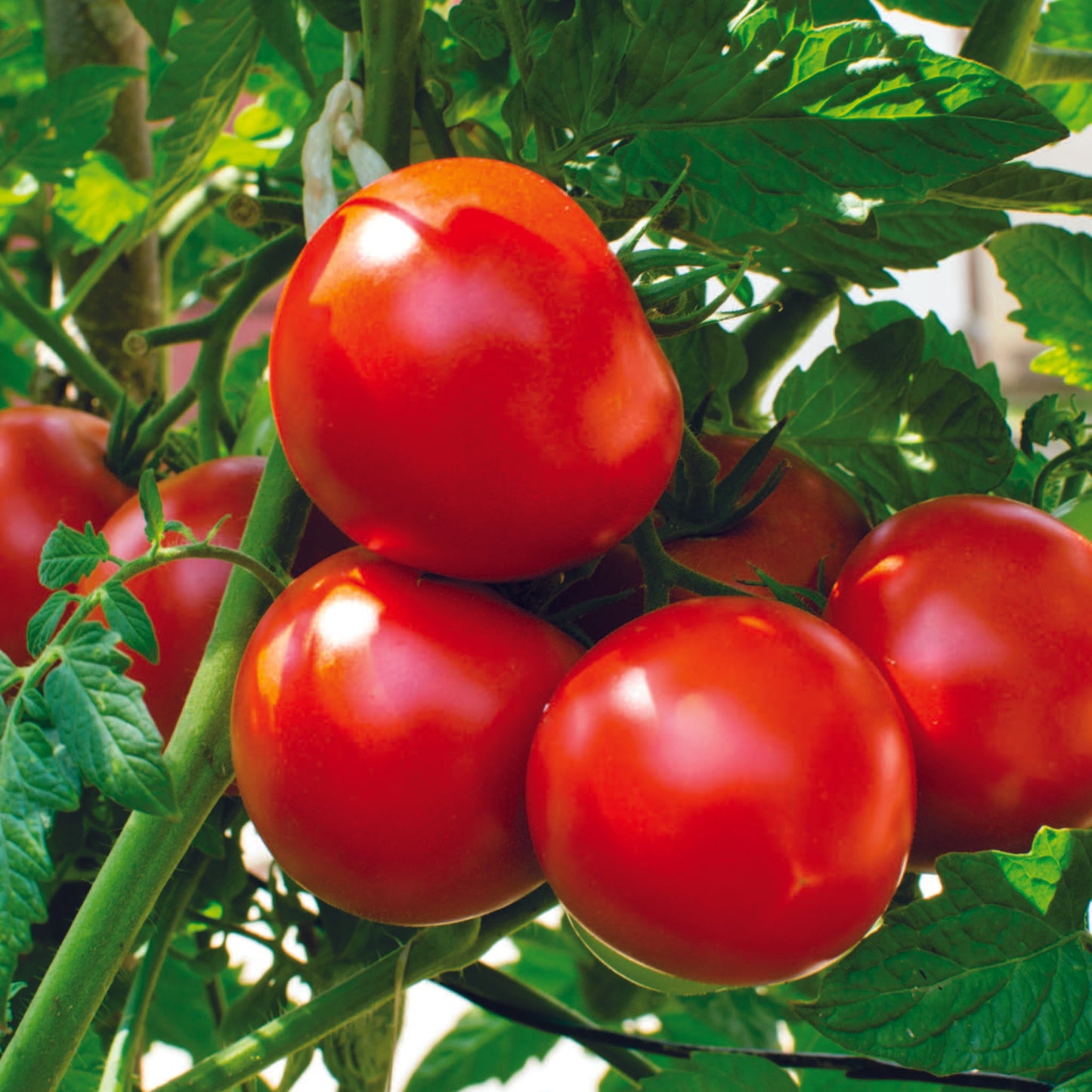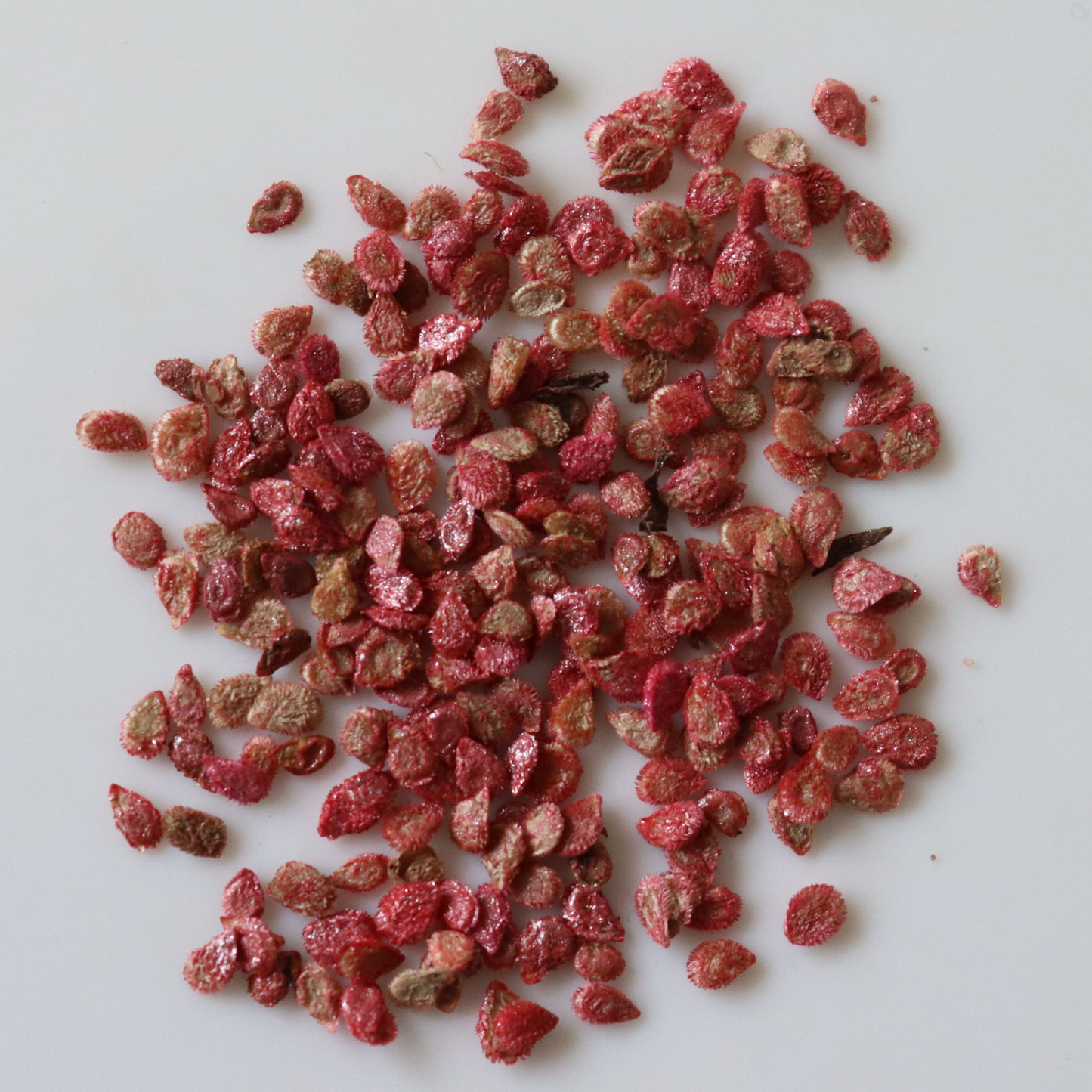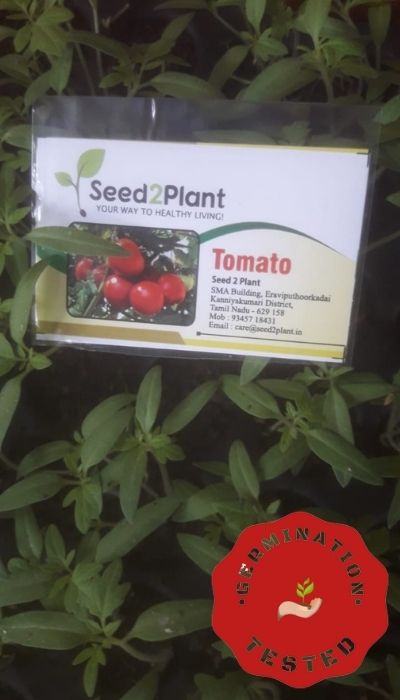 Germination time
7-14 days
Hours of sunlight
6-8 hours per day, in full sun
Ideal climate for sowing
All season crop, can be grown in summer, rainy season (avoid extreme winter)
Plant height
3-4 feet
Organic fertilizer requirement
1-2 cups of

 

Decomposed cow dung

 

or

 

Vermicompost, or 1 tablespoon of

 

Bone meal(optional) per plant per week
Life span
6-8 months
Ideal growing temperature
24-35°C
Harvesting time
75-80 days after sowing
Maintenance required
Moderate
Watering frequency
 Keep the soil moist but not waterlogged
Ideal grow bag size
12x12 grow bag,

 

12x24 grow bag,

 

24x24x12 rectangular grow bag, 36x24x12 grow bed, 
Number of seeds
100+
Specifications of Tomato seeds

Tomato is a flowering plant cultivated for its edible fruits, which is labelled as a vegetable. There are numerous ways to grow tomatoes. They can be grown easily, cheap and healthy.
Larger varieties love to grow in open ground areas. In contrast, smaller varieties can be grown in grow bags (which have great airflow, easy to carry and are cheaper compared to other containers) pots or even in hanging baskets. But it should not be planted very close to avoid fungal attack.
Benefits / Uses of Tomato
Tomatoes are rich in vitamin B and C essential amino acids, sugar, dietary fibres, iron, potassium, vitamin K, minerals, nutrients, and good sources of phytochemical lycopene. They have the goodness of containing the anti-cancer compound lycopene. These seeds are even open-pollinated, which means the seeds can be reused from harvested tomatoes.
Planting and care for Tomato
Every tomato seed contains a tiny tomato plant that is alive but dormant, which means it's just waiting to grow. When the environmental conditions, soil and climatic conditions are right, the seed will start to germinate, and the tiny tomato plant will sprout from the tomato seed and begins to grow.
Sowing Tomato seeds

Sow the seeds in moist soil inside a growbag, but the soil should not be over damp or soil dripping with water.

The seed should be planted 1/4 inch deep.

Pre-soaking of seeds in warm water overnight before planting them helps to soften the seed coat and speed up the seed germination.
Growing Tomato
Tomato is a warm-season crop.

 It requires a warm climate and adequate moisture.

Keep the soil moist always by slightly sprinkling the water over that area in the morning and evening.

Overwatering in tomato plans shows early signs include cracked fruit and bumps on the lower leaves. Use grow bags with drainage holes to avoid overwatering.

If the overwatering continues, the spots or blisters on the plant leaves turn corky.

The soil should have good water holding capacity, aeration and It should be free from salts.

Don't expose the germination trays or grow bags in direct sunlight until the seeds get germinated. Maintaining a warm temperature leads to faster germination than very cold or scorching weather.

Move the grow bags to the sunlight as soon as the tomato seedlings break the surface and come out. Generally, the tomato plants will grow with branches spreading to 60-180cm (24 to 28 inches), but some are small, compact, and upright.

Usage of organic growth promoters like panchagavya and fish amino acid help in improved flowering and overall health of the plant.
Harvesting Tomato
50 to 60 days are required for early-season tomatoes, 60 to 80 days are needed for mid-season tomatoes, 80 or more days are needed for late-season tomatoes.
Precautions While Growing Tomato
Soil should be loam, sticky to give a higher yield because they have high water holding capacity.

Soil with a pH level of 5.5 to 7.0 is most suitable for tomato production.
Common problems affecting Tomato Plants and solutions 
The tomato plant will be susceptible to many pests and diseases such as early blight, fusarium wilt, late blight, bacterial wilt, verticillium wilt, mosaic virus, and Tomato hornworms.
The tobacco mosaic virus causes a common tomato disease. Handling cigarettes and other infused tobacco products can transmit the virus to other tomato plants. Leaves with a purple coloration may indicate a phosphorus deficiency, and yellow colour leaves may indicate nitrogen deficiency.
Many of the problems can be controlled by using various pesticides and fungicides and also by crop rotation. Baking soda and compost tea have fungicidal properties that can stop, resist or reduce the spread of early and late blight.
Although there are no such diseases, fertilize them with complete soluble organic fertilizer if tomato leaves become yellow and purple. The pesticides, fungicides and even various fertilizers can be purchased from online stores such as. The production rate and quality of fruit are based on the nutrients the plants get. So, the plant should be fertilized correctly and in the required quantity.
Closer spacing of plants produces higher yields than wide spacing, but too-close spacing will make air circulation diseases. Closer plantation of Tomato reduces air circulation, lower light penetration thus reduces the production rate and results in conditions.
Good drainage, sufficient light (can be given artificially), and aeration are essential for tomato seeds. If a fluorescent light is used for lighting, keep the seedlings 2 to 4 inches below the lamps; otherwise, the seeds will become saggy. Soggy soil may cause tomato seeds to rot. Insufficient light can lead to weak and spindle plants. Controlling humidity, cleaning up old plant debris, removing weeds, controlling insects, and overhead watering can help prevent all these diseases.
Other Names
Botanical name: Solanum lycopersicum L.
Organic Desi Tomato name in Tamil: தக்காளி (Takkāḷi)
Organic Desi 
Tomato name in Malayalam: തക്കാളി (Takkāḷi)
Organic Desi 
Tomato name in Kannada: ಟೊಮೇಟೊ (Ṭomēṭo)
Organic Desi 
Tomato name in Telugu: టమాట (Tomāṭa)
Organic Desi 
Tomato name in Marathi: टोमॅटो (Ṭomǎṭo)
Organic Desi 
Tomato name in Hindi: टमाटर (Tamāṭar)
Organic Desi 
Tomato name in Bengali: টমেটো (Ṭomeṭo)
No. of Tomato Seeds in a packet - 100+
Free delivery above ₹499

More you buy, more you save! 24 Hour dispatch and 5-7 days delivery.

Easy Returns

Changed your mind about the purchase? We are just a text/call away.

Quick and Friendly Support

Our helpful and courteous staff can help you via chat or phone.

Secure Payments

All transactions done on Seed2Plant are encrypted and safe.