Must-have nutrient supplement package for healthy garden
Ask More on WhatsApp
Regular price
Rs. 780.00
Sale price
Rs. 649.00
Unit price
per
Sale
Sold out
THIS PRODUCT IS PROUDLY MADE IN INDIA
View full details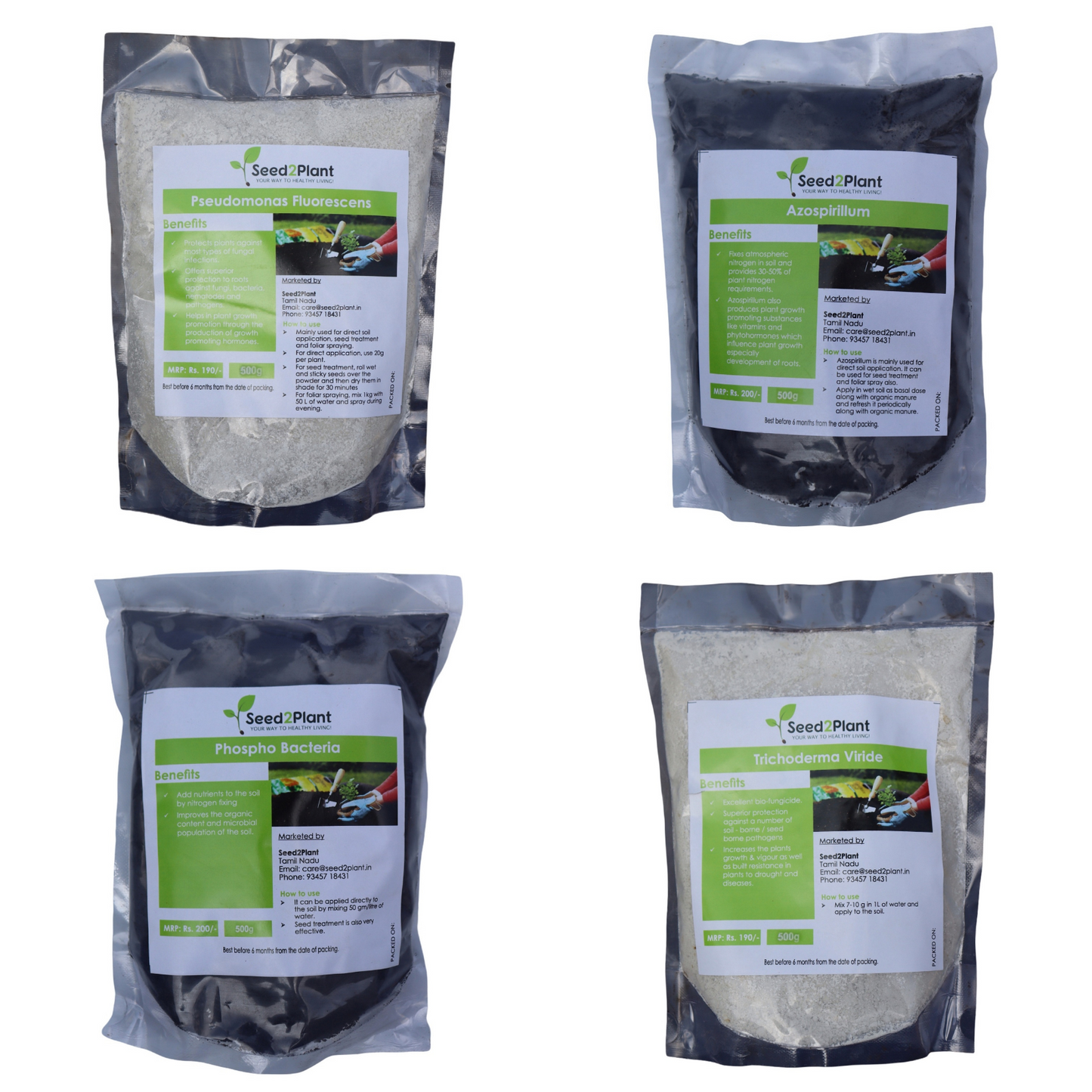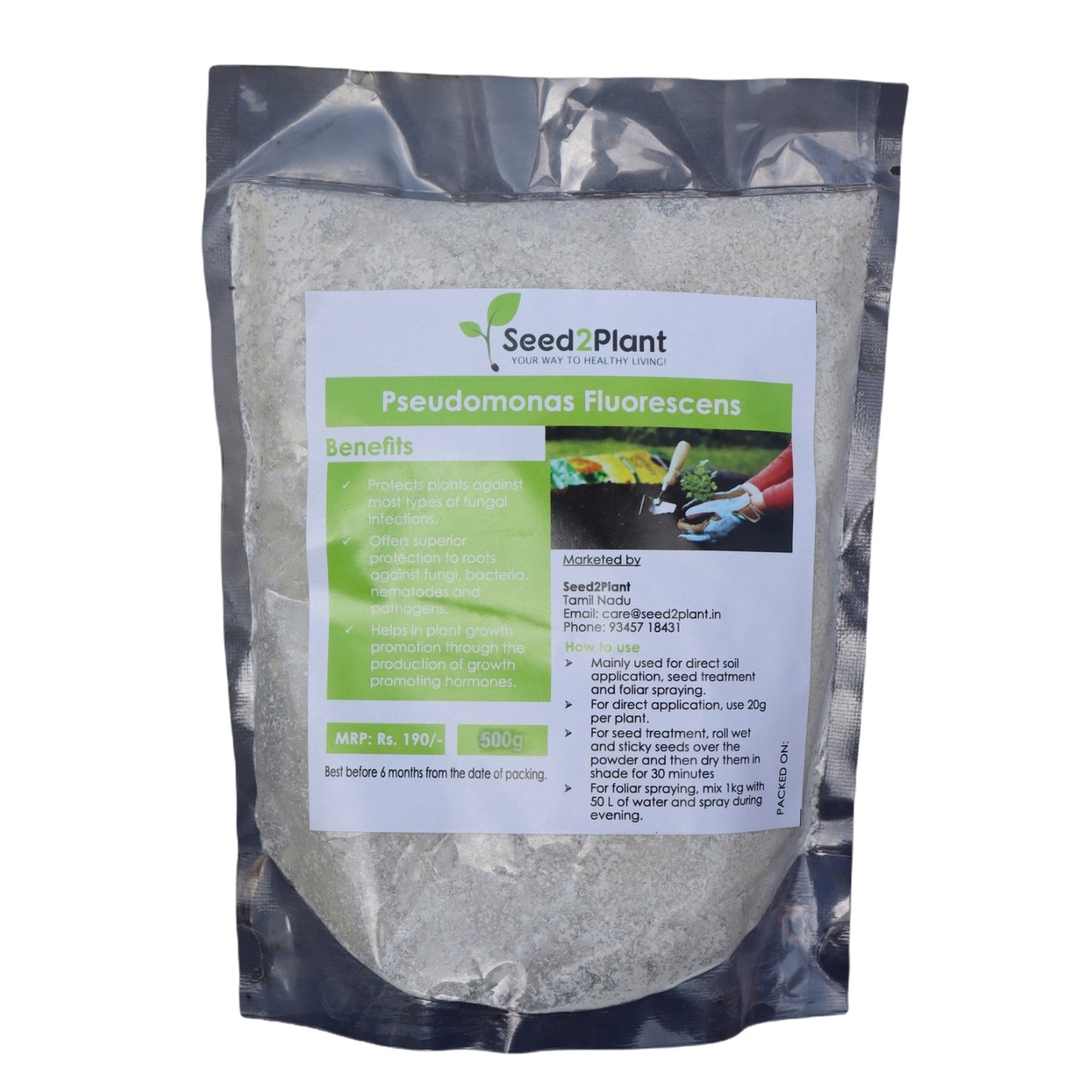 Organically made, environmentally friendly, non-toxic

agricultural fertilizers bundle acts. The best source of macronutrients and micronutrients.

It is essential to add organic bio fertilizers to growing plants to promote cell division, elongation, growth and blooming while also creating resistance to soil borne diseases.  

It is advised to add adequate doses of fertilizer once in 2-3 weeks to ensure healthy growth of plants. 

Plant nutrient supplementation is essential in a home garden to create an environment analogous to the natural agricultural ambience. 

The bundle includes 4 types of fertilizers ½ kg each, which provide diverse benefits to the plant, 
Trichoderma Viride Bio Fertilizer, 
Pseudomonas Fluorescens Bio Fertilizer, 
Azospirillum Nitrogen Fixing Bio Fertilizer
Phospho Bacteria Bio Fertilizer
Trichoderma Viride Bio Fertilizer
Trichoderma Viride is a type of beneficial fungus, which is employed as an natural bio fungicide. It is an active

fungal growth preventer and destroyer

. 

The bio fungicide can be used to protect all plant types like ornamental plants, vegetables, fruits, cotton, oilseeds, pulses, turmeric. 

It is widely used in nursery beds for seed and soil treatment. When used infield, the bio fungicide fights diseases by parasitism and antibiosis, causing detrimental effects on the affecting pathogen. 

In addition, the fungicide also decomposes soil wastes, organic farm wastes. 
To use: Mix 7-10 g in 1L of water and apply to the soil.
Pseudomonas Fluorescens Bio Fertilizer
P.fluorescens acts as a biocontrol agent promoting the secretion of essential growth hormones. It improves the uptake of nutrients by roots and  increases resistance to diseases.

It improves the soil properties by improving soil permeability and

oxygen availability to the roots

. 
To use: For direct application use 20g per plant. For foliar spraying, mix 1kg with 50 L of water and spray during the evening.
Azospirillum Nitrogen Fixing Bio Fertilizer
Through a biological fixation process, Azospirillum converts atmospheric nitrogen into easily absorbable ammonium for plants. 

It is suitable

for all plant types

, vegetables, legumes, cereals, ornamental plants and plantation crops. 

It produces plant

growth-promoting substances like vitamins and phytohormones

that regulate growth, development and reproduction. 
To use: Apply 20g/ plant on wet soil along with compost or manure. It can be applied directly to the soil by mixing 50 g/litre of water. 
Phosphobacteria Bio Fertilizer
Phosphorus is one of the major nutrients needed for plants in appropriate amounts, in addition to nitrogen and potassium. Phosphate solubilizing bacteria (PSB) produce essential organic enzymes that convert the insoluble phosphorus into soluble form for easy absorption by plants. 

When used with rock phosphate, PSB can save about

50% of the crop requirement of phosphatic fertilizer

.

It regulates the

production of Phytohormones

like gibberellins and indole acetic acid, which is essential for root development, cell elongation, growth and early maturing of flowers and fruits.
To use: It can be applied directly to the soil by mixing 50 g/litre of water. The fertilizer has to be applied to the wet soil along with organic manure/ compost periodically. The basal dose is 20g/ plant. 
Awesome product
I have purchased fertilizer mix for vegetables and fruits which is 100% organic, is an awesome product of Seed2plant. Really it works for a healthy plant growth.
yes i have used 1 kg and found 100% pure neem cake
yes i have used 1 kg and found 100% pure neem cake for plant overall health
Excellent
Good quality and excellent results
Free delivery above ₹499

More you buy, more you save! 24 Hour dispatch and 5-7 days delivery.

Easy Returns

Changed your mind about the purchase? We are just a text/call away.

Quick and Friendly Support

Our helpful and courteous staff can help you via chat or phone.

Secure Payments

All transactions done on Seed2Plant are encrypted and safe.